#MSBlog: Venoplasty for CCSVI appears not to work! Do we need more data?

Epub: Ghezzi et al; The MS Study Group-Italian Society of Neurology. Endovascular treatment of CCSVI in patients with multiple sclerosis: clinical outcome of 462 cases. Neurol Sci. 2013 Jan 25.

Background: Although it is still debated whether chronic cerebro-spinal venous insufficiency (CCSVI) plays a role in MS development, many patients underwent endovascular treatment (ET) of CCSVI.
Objective: The objective of the study is to evaluate the outcome and safety of ET in Italian MSers.
Methods: Italian MS centers that are part of the Italian MS Study Group were all invited to participate to this retrospective study. A structured questionnaire was used to collect detailed clinical data before and after the ET. Data from 462 patients were collected in 33 centers.
Results: ET consisted of balloon dilatation (93 % of cases) or stent application. The mean follow-up duration after ET was 31 weeks. Mean EDSS remained unchanged after ET (5.2 vs. 4.9), 144 relapses occurred in 98/462 cases (21 %), mainly in RR-MS MSers. Fifteen severe adverse events were recorded in 3.2 % of cases.
Conclusion: Given the risk of severe adverse events and the lack of objective beneficial effects, our findings confirm that at present ET should not be recommended to patients with MS.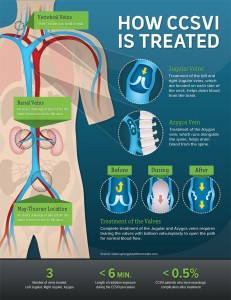 "The results of this study are self-explanatory and mirrors our experience with the few MSers from our centre who have had treatment, typically abroad. The results are clear; it is no miracle treatment. What we also need is some symptomatic outcome data and an economic analysis."
"Whilst we are waiting for the results of prospective blinded trials we do not recommend that any MSer have this procedure outside of a clinical trial protocol. In addition, MSers should not be paying to have the procedure either."
Other posts on CCSVI on this blog:
28 Jan 2013
Chronic cerebro-spinal venous insufficiency (CCSVI) has been proposed as a "congenital malformation" implicated in the pathogenesis of multiple sclerosis (MS). However, numerous studies failed to confirm its presence in …
26 Jan 2013
SUBJECTS AND METHODS: We assessed flow variables in the ophthalmic artery, central retinal artery, and central retinal vein and measured the diameter of ONe in 46 relapsing-remitting MS patients and 37 healthy controls …
09 Jan 2013
Google Trends and CCSVI. "Google Trends as an epidemiological tool to study social phenomena continues to fascinate me! The following is the latest update on CCSVI. What do you think?" …
29 Dec 2012
OBJECTIVE: Chronic cerebrospinal venous insufficiency (CCSVI) was recently described in patients with multiple sclerosis (MS). The hypothesis of the vascular aetiology provides a new approach in the investigation and …
24 Nov 2012
CCSVI monthly November. Epub: Simka et al. Internal jugular vein entrapment in a multiple sclerosis patient. Case Rep Surg. 2012;2012:293568. doi: 10.1155/2012/293568. Epub 2012. We describe a multiple sclerosis …
21 Dec 2012
Complications from CCSVI. #MSBlog: complications from jugular vein stenting in MS. Doležal et al. Serious Complication of Percutaneous Angioplasty with Stent Implantation in so Called "Chronic Cerebrospinal Venous …
27 Oct 2012
CCSVI Monthly October. As the nonsense arrives, whenever there is a contentious post on CCSVI, to keep some balance for those interested, we will go back to the last Saturday of the month with no comments taken.
08 Oct 2012
Background: Chronic Cerebro-Spinal Venous Insufficiency (CCSVI) has been proposed to be associated with Multiple Sclerosis (MS). Zamboni et al reported significant improvement in neurological outcomes in MS patients …
27 Oct 2012
CCSVI survey results. BLOG readers are sceptical. The survey results on CCSVI have been interesting. When asking Prof G to the post survey, I would have predicted that if all trials were positive the majority of people would …
17 Oct 2012
In response to someone's comment re comparing CCSVI to Tysabri or Natalizumab. I have embedded the graph. It is clear the trends are very different; Tysabri/Natalizumab dwarfs that of CCSVI. In epidemiological terms we …
06 Oct 2012
Introduction. An alternative etiology of MS named chronic cerebrospinal venous insufficiency (CCSVI) has recently been proposed by Zamboni et al. By venous ultrasound (US) and venography they found venous stenosis …
08 Oct 2012
Zamboni P, Bertolotto A, Boldrini P, Cenni P, D'Alessandro R, D'Amico R, Del Sette M, Galeotti R, Galimberti S, Liberati A, Massacesi L, Papini D, Salvi F, Simi S, Stella A, Tesio L, Valsecchi MG, Filippini G. Efficacy and safety …
17 Oct 2012
Google trends: CCSVI a waning social phenomenon. "These latest Google trend figures are reassuring and continue downward. I sincerely hope the off-license use of procedures to treat CCSVI are waning as fast." "CCSVI .
14 Oct 2012
This is one of the trials by protagonists of CCSVI. It appears that the Canadian Government has pledged to do a trial of 100 MSers, but this trial is being led by a CCSVI sceptic. Will the results be definitive. If positive, will we …
8 minutes ago
CCSVI Research: Now Pigs?-Save the Pigs! Habib CA, Utriainen D, Peduzzi-Nelson J, Dawe E, Mattei J, Latif Z, Casey K, Haacke EM MR imaging of the yucatan pig head and neck vasculature. J Magn Reson Imaging.
16 Sep 2012
Research: CCSVI papers back after the Summer holiday. After 2 months of essentially nothing in terms of papers published nothing, now the periodical "Neurological Research" gives the journal over to CCSVI topics. Morovic …
12 Sep 2012
Only one subject, a control, satisfied the Zamboni definition of CCSVI; however, 19 patients and 13 controls had abnormalities as defined by Zamboni, the difference largely caused by a higher prevalence in patients of internal …
25 Aug 2012
This study looks at MSers and finds some with criteria compatible with the theory of CCSVI and some that do not. Likewise there are healthy individuals with CCSVI and some without. Where there is ultrasonic CCSVI there can …
28 Aug 2012
The graph below compares the search volume index of alemtuzumab to CCSVI. To make the graphs readable I had to do a log conversion of the search volumes, which are given by week. To do the log conversion I simply …
10 Aug 2012
RESULTS: CCSVI was present in 28 (18.9%) of the MS patients, in 2 (10%) of CIS patients, in 11 (6.4%) of the controls, and in 2 (5%) of the OND patients. A significant association between MS and CCSVI was found with an …
22 Jul 2012
I sincerely hope the off-license use of procedures to treat CCSVI are waning as fast." "CCSVI remains predominantly an Italian and Canadian phenomenon. The UK and USA don't make the top 10." "Once the dust has settled …
31 Aug 2012
Research: Clinical Improvement after Venoplasty of CCSVI. Epub: Hubbard D et al. Clinical Improvement after Extracranial Venoplasty in Multiple Sclerosis. Journal of Vascular and Interventional Radiology Epub online 28 …
28 Jul 2012
CCSVI Monthly July. Yet again nothing! Do you think it is time to wind-up this monthly post? Reactions: Posted by MouseDoctor at 02:00 · Email ThisBlogThis!Share to TwitterShare to Facebook · Newer Post Older Post Home …
11 May 2012
FDA Safety Communication CCSVI. FDA Safety Communication: Chronic Cerebrospinal Venous Insufficiency Treatment in Multiple Sclerosis Patients The FDA today issued a safety communication about CCSVI …
31 May 2012
BACKGROUND AND PURPOSE: CCSVI has been reported to occur at high frequency in MS. Its significance in relation to MR imaging parameters also needs to be determined, both in patients with MS and HCs. Therefore …
16 Jun 2012
Twenty-nine patients with clinically definite relapsing-remitting MS underwent percutaneous transluminal angioplasty for CCSVI, outside a clinical relapse. All the patients were regularly observed over at least two years before …
30 Jun 2012
Yes. beside the couple of offerings that Prof G has served up there is nothing to report this month. Maybe people just want to see what the clinical studies show. Maybe the scientific interest is waning. Maybe it is time to kick …
02 Jun 2012
To systematically review the ultrasonographic criteria proposed for the diagnosis of chronic cerebrospinal venous insufficiency (CCSVI). The authors analyzed the five ultrasonographic criteria, four extracranial and one …
11 Nov 2009
Recently, evidence has emerged – and widely publicised – that a condition called "chronic cerebro-spinal venous insufficiency (CCSVI)" may play a role in the pathogenesis of multiple sclerosis (MS). Paolo Zamboni …
17 May 2012
It's amazed me from the beginning that even skeptics of the theory of ccsvi agree to the need for clinical trials when the crucial point of the entire situation is that not long ago shared total obscurity along with the thousands of …
10 Jun 2012
CCSVI: News of Negative trial. You may be have heard that trial data is emerging from Canada..in the press (ugh this is not where we should be hearing about this, science using the media for publicity is normally bad …
21 Mar 2012
Search volume index. Region, Ranking. Italy, 1. Canada, 0.755. Serbia, 0.58. Croatia, 0.35. Norway, 0.275. Denmark, 0.245. Netherlands, 0.205. Ireland, 0.19. Finland, 0.155. Sweden, 0.135. City, Ranking. Cagliari (Italy), 1 …