Optic neuritis is where the money is when it comes to neuroprotection screening. #MSBlog #MSResearch

"This study provides more evidence and support for using the optic nerve as a read out for focal neurodegeneration. It shows that MRI technique for assessing axonal or nerve fibre function correlates well with other metrics of optic nerve dysfunction."
"Did you know that the average person with optic neuritis loses about 20% of the nerve fibres in the optic nerve after a single attack of optic neuritis? This is despite the majority of MSers with optic neuritis recovering vision to near normal. Almost all people who have had an attack of optic neuritis have abnormal visual function when you test their vision using very sensitive tests, for example colour vision or contrast sensitivity. The latter is the detection of boundaries between shades of gray. The visual recovery back to near normal despite losing 20% of your nerve fibres is due to the reserve capacity in the nerve. This is exactly what happens in other pathways and regions of the brain; despite nerve loss or brain shrinkage the average MSer compensates by adapting and using their reserve capacity. The downside of adaptation is fatigue; it takes a lot more mental energy for an MSer to complete a task than it does for someone who is not using reserve capacity."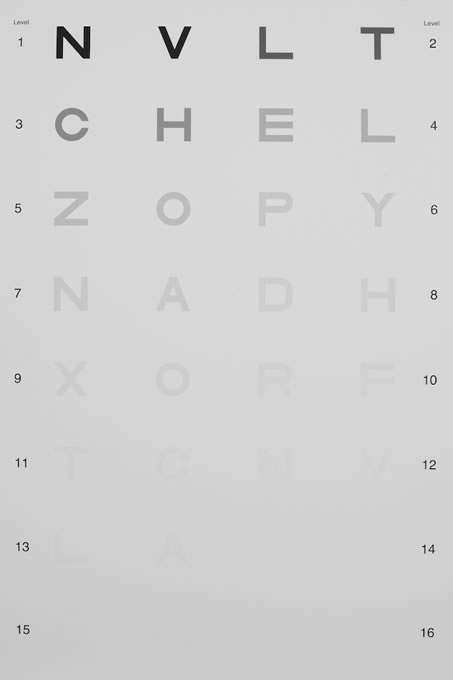 Low Contrast Visual Acuity Chart
"This study supports using the optic nerve as a test bed for neuroprotective drugs. This is why Mouse Doctor and his team have developed and animal model of optic neuritis for this purpose and why we are using acute optic neuritis in our phenytoin trial. I would like to acknowledge the National MS Society and the MS Society of Great Britain and Northern Ireland for funding this work under the PROMISE 2010 umbrella; THANK YOU!"
van der Walt et al. Optic Nerve Diffusion Tensor Imaging after Acute Optic Neuritis Predicts Axonal and Visual Outcomes. PLoS One. 2013 Dec 26;8(12):e83825.
BACKGROUND: Early markers of axonal and clinical outcomes are required for early phase testing of putative neuroprotective therapies for multiple sclerosis (MS).
OBJECTIVES: To assess whether early measurement of diffusion tensor imaging (DTI) parameters (axial and radial diffusivity) within the optic nerve during and after acute demyelinating optic neuritis (ON) could predict axonal (retinal nerve fibre layer thinning and multi-focal visual evoked potential amplitude reduction) or clinical (visual acuity and visual field loss) outcomes at 6 or 12 months.
METHODS: Thirty-seven people presenting with acute, unilateral ON were studied at baseline, one, three, six and 12 months using optic nerve DTI, clinical and paraclinical markers of axonal injury and clinical visual dysfunction.
RESULTS: Affected nerve axial diffusivity (AD) was reduced at baseline, 1 and 3 months. Reduced 1-month AD correlated with retinal nerve fibre layer (RNFL) thinning at 6 (R=0.38, p=0.04) and 12 months (R=0.437, p=0.008) and VEP amplitude loss at 6 (R=0.414, p=0.019) and 12 months (R=0.484, p=0.003). AD reduction at three months correlated with high contrast visual acuity at 6 (ρ = -0.519, p = 0.001) and 12 months (ρ = -0.414, p=0.011). The time-course for AD reduction for each MSer was modelled using a quadratic regression. AD normalised after a median of 18 weeks and longer normalisation times were associated with more pronounced RNFL thinning and mfVEP amplitude loss at 12 months. Affected nerve radial diffusivity (RD) was unchanged until three months, after which time it remained elevated.
CONCLUSIONS: These results demonstrate that AD reduces during acute ON. One month AD reduction correlates with the extent of axonal loss and persistent AD reduction at 3 months predicts poorer visual outcomes. This suggests that acute ON therapies that normalise optic nerve AD by 3 months could also promote axon survival and improve visual outcomes.