Use of a common asthma drug reduces your risk of developing MS? #MSBlog #MSResearch
"The following records based studies showed that people who use fenoterol an asthma drug have a reduced risk of developing MS. This can be interpreted in several ways. Firstly, as a negative association between asthma and MS; in other words having asthma protects you from getting MS. Secondly, taking fenoterol modifies the course of MS and prevent or delays its onset. There is evidence that beta2-adrenergic agonists in general are immunomodulatory. A previous study showed that the related beta2-adrenergic agonists, albuterol, improved clinical outcomes in MSers as an add-on treatment to glatiramer acetate (see abstract below). Finally this could be chance finding and therefore needs to be reproduced. Why is this important? It is important to confirm this finding and ascertain what is driving the biological effect as it may provide new treatment options for preventing or treating MS. The question is who will fund this research? It is the old issue of are the incentives large enough for Pharma to fund the add-on studies to assess whether or not a relatively cheap class of drugs are disease-modifying?"

Epub: Tsai et al. Beta2-adrenergic agonist use and the risk of multiple sclerosis: a total population-based case-control study. Mult Scler. 2014 Apr.

OBJECTIVE: The aim of this study was to investigate whether the use of fenoterol, a beta2-adrenergic agonist*, was associated with MS risk by conducting a total population-based case-control study in Taiwan.
*beta2-adrenergic agonists are a group of drugs that are typically used in asthma and other lung diseases to dilate the airways to help make it easier to breathe.

METHODS: A total of 578 MSers with newly diagnosed MS who had a severely disabling disease (SDD) certificate between January 1, 2002 and December 1, 2008 comprised the case group. These cases were compared with 2890 gender-, age-, residence-, and insurance premium-matched controls. Fenoterol use was analyzed using a conditional logistic regression model that controlled for asthma, chronic obstructive pulmonary disease (COPD), salbutamol and steroid use.

RESULTS: Compared with the group of people who did not use fenoterol, the adjusted odds ratios were 0.67 (95% confidence interval (CI) = 0.48-0.93, p = 0.016) for the group prescribed fenoterol below 2.25 cumulative defined daily dose (cDDD) and 0.49 (95% CI = 0.33-0.71, p < 0.001) for the group with a cumulative fenoterol use of more than 2.25 cDDD. The dose-response relationship was similar within the non-asthma patients. The associations were similar between males and females, but differences between age groups were observed.

CONCLUSIONS: The results of this study suggest that fenoterol use may reduce the risk of MS.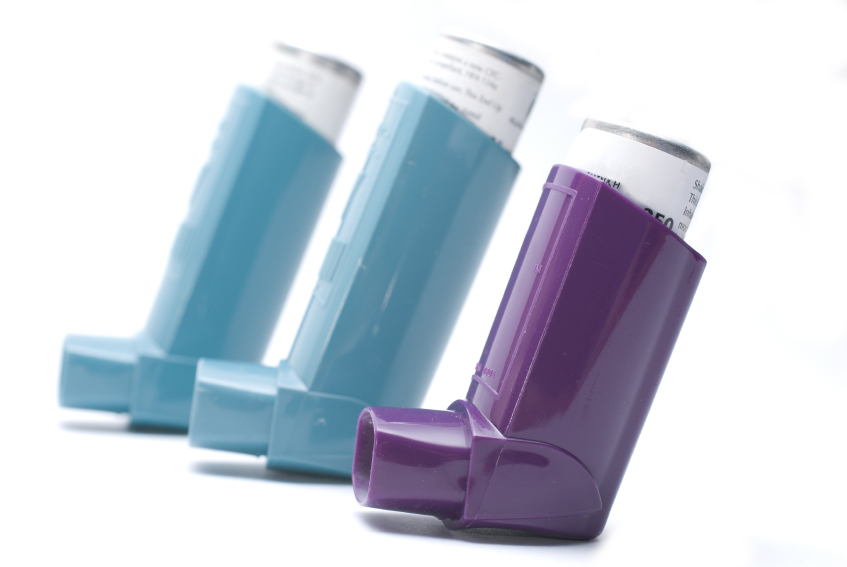 Khoury et al. A randomized controlled double-masked trial of albuterol add-on therapy in patientswith multiple sclerosis. Arch Neurol. 2010 Sep;67(9):1055-61.

BACKGROUND: Interleukin 12 (IL-12), a cytokine that promotes generation of helper T cells subtype 1, is increased in MS Albuterol sulfate, a β2-adrenergic agonist, reduces IL-12 expression, so we tested the effect ofalbuterol as an add-on treatment to glatiramer acetate therapy.

OBJECTIVES: To investigate the clinical and immunologic effects of albuterol treatment as an add-on therapy inpatients starting glatiramer acetate treatment.

DESIGN: Single-center double-masked clinical trial.

SETTING: Academic research. Patients Subjects with relapsing-remitting multiple sclerosis.

MAIN OUTCOME MEASURES: In this single-center double-masked clinical trial, subjects with relapsing-remitting multiple sclerosis were randomized to receive a subcutaneous injection of glatiramer acetate (20 mg) plus an oral dose of placebo daily for 2 years or a subcutaneous injection of glatiramer acetate (20 mg) plus an oral dose of albuterol daily for 2 years. The primary clinical efficacy measurement was the change in Multiple Sclerosis Functional Composite at 2 years, and the primary immunologic end point was the change in expression of IL-13 and interferon γ at each study time point. The classification level of evidence from this trial is C for each question, as this is the first class II clinical trial addressing the efficacy of glatiramer acetate plus albuterol.

RESULTS: Forty-four subjects were randomized to receive glatiramer acetate plus albuterol or glatiramer acetate plus placebo, and 39 subjects contributed to the analysis. Improvement in the Multiple Sclerosis Functional Composite was observed in the glatiramer acetate plus albuterol group at the 6-month (P = .005) and 12-month (P = .04) time points but not at the 24-month time point. A delay in the time to first relapse was also observed in the glatiramer acetate plus albuterol group (P = .03). Immunologically, IL-13 and interferon-γ production decreased in both treatment groups, and a treatment effect on IL-13 production was observed at the 12-month time point (P < .05). Adverse events were generally mild, and only 3 moderate or severe events were considered related to the treatment.

CONCLUSION: Treatment with glatiramer acetate plus albuterol is well tolerated and improves clinical outcomes in patients with multiple sclerosis.