Flachenecker P, Henze T, Zettl UK. Long-Term Effectiveness and Safety of Nabiximols (Tetrahydrocannabinol/Cannabidiol Oromucosal Spray) in Clinical Practice. Eur Neurol. 2014 Jun 18;72(1-2):95-102. [Epub ahead of print]

Background: Nabiximols (Sativex®), in a cannabinoid-based oromucosal spray, is an add-on therapy option for patients with moderate to severemultiple sclerosis spasticity (MSS) resistant to other medications. The study objective was to provide long-term data on clinical outcomes, tolerability, quality of life and treatment satisfaction for MSS patients receiving nabiximols in routine care. Methods: This was the 12-month prolongation of the MOVE 2 study, an observational, prospective, multi-centre 3-month non-interventional study conducted in a routine care setting across Germany. Structured documentation forms, questionnaires and validated instruments were used for data collection.
Results: In total, 52 patients were included in the effectiveness analysis after 12 months. The mean spasticity numerical rating scale (NRS, 0-10) score decreased significantly from 6.0 ± 1.8 points at MOVE 2 baseline to 4.8 ± 1.9 points after 1 month and remained on this level after 12 months (4.5 ± 2.0 points); in patients classified as 'initial responders' (≥20% NRS improvement after 1 month) similar results were found (baseline: 6.3 ± 1.4 points; after 1 month: 4.0 ± 1.0 points; after 12 months: 4.3 ± 1.9 points). The majority of patients (84%) did not report adverse events.
Conclusion: Real-life data confirm the long-term effectiveness and tolerability of nabiximols for the treatment of resistant MSS in everyday clinical practice.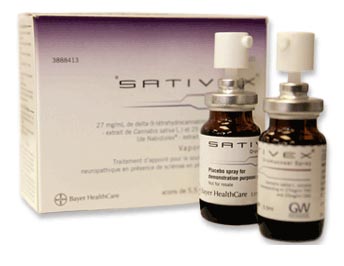 Yet more evidence for some effect of Sativex in the people hat respond to the drug. There were 16% reporting adverse events. The central problem for the UK is not the benefit that needs to be shown but that the drug is cost effectiveness, otherwise it will always have problems in UK PLC.
Furthermore maybe this cost will be the problem in North America…because of cheaper "unregulated" competition
There are numerous Hemp growing operations springing up especially in Canada and Colorado where the possession/growing is becoming accepted.
Unlike pharma cartels, there is market competition apparently going on and the cost of medicinal pot is tumbling.


Add to this the lack of requirement to demonstrate real efficacy for medicinal purposes,like other nutricienticals, then real pharma is going to have their work cut out to get their foot in to the medicinal cannabis market.
The number of pot growers stating that they know it works because they use it themselves (say no more) and the effects are always remarkable….Much of it sounds however frankly unbelievable. There are millions of people using cannabis and if cannabis could really reverse (I am not saying their is no benefit..but cures?) disease conditions…the proof would be there or easy to come by. They sound like (bad) used car salesmen, who would sell their gran for a quick buck.
The failures of academic neuros to show benefits from THC in progression (CUPID) may have probably killed off interest in research in this area room a pharmaceutical perspective.
However because of the wide availability and use of marijuana, outside of pharma, suggests that it would be worth further investigating the effects on progression, where the majority of research suggests a neuroprotective potential.
It is clear that some components of cannabis can compete to stop this benefit being realised. Would you want to know which mix of components offer benefit…This needs real data not the hear say from pot shops.
What is the merit say of a 1:1 mix of Cannabidiol over tetrahydrocannabinol say compared to 20:1 or no cannadidiol. It is claimed that CBD reduces the side effects of THC…so why therefore would it not reduce the therapeutic effects? Where's the data, where's the biology.
CoI: We are developing in a competing product.