PROXIMUS (Oxcarbazepine) neuroprotection study in early SPMS is starting recruitment
History
This is another crack at the neuroprotection concept by us neurologists (NB: we're affiliated with this trial). The story starts with the good old 'Lamotrigine trial in SPMS' – Kapoor et al. Lancet 2010; which dashed our budding hopes for a neuroprotection strategy in SPMS. But further data analysis, in particular of the blood and CSF samples monitoring for the release of neurofilament proteins (damage/injury marker of axons), showed it to be less in participants on lamotrigine vs placebo/dummy tablet (Gnanapavan et al. PLOS One 2013). From this came the spin off trial 'Phenytoin in optic neuritis' – protection of vision in optic neuritis (now fully recruited) and the PROXIMUS study in early SPMS (the name by the way was picked by you guys after posting on this blog!).
Rationale
Although demyelination is an early feature in MS, axonal loss also occurs very early on (this is why a stand alone remyelination strategy in MS will never work – you can't myelinate what is not there!). And axonal loss for all intents and purposes is permanent, and is the predominant cause of loss in neurological function (the God farther of Neuroscience, Ramon y Cajal is oft quoted to have said: 'But the functional specialization of the brain imposed on the neurones two great lacunae; proliferative inability and irreversibility of intraprotoplasmic differentiation. It is for this reason that, once the development was ended, the founts of growth and regeneration of the axons and dendrites dried up irrevocably').
Over the past decade (see figure below) there has been a growing body of work demonstrating that nitric oxide (a free radicle released during inflammation can shut down the energy producing cells of axons (the mitochondria). This energy deficiency in turn leads to axonal breakdown (there is increased influx of sodium into axons triggering a reversal of the sodium/calcium exchanger which unwittingly ends up with toxic levels of calcium entering into axons). Blockade of the sodium channels has been shown to prevent nitric oxide-induced axonal breakdown in laboratory and animal models. Sodium channel blockers include lamotrigine, phenytoin, flecanide and carbamazepine/oxcarbazepine.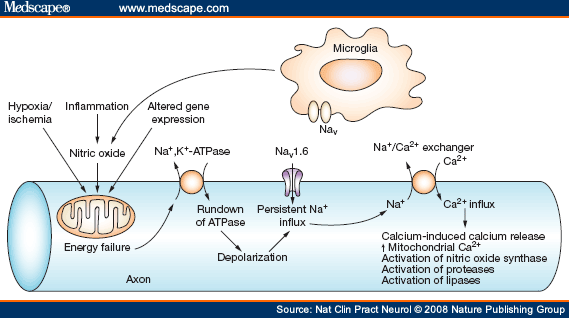 Clinical trial details
The study is going to be carried out at the Clinical Research Centre at Barts Health NHS Trust & Queen Mary University of London. It is a randomised controlled study of Oxcarbazepine vs placebo (participants will be randomly assigned to either the active drug or the dummy tablet). There has to be evidence of active axonal loss; a lumbar puncture will be performed at the start to check neurofilament levels. If your neurofilament levels are raised then you'll be randomised. Another LP is then performed at the start of the study, at 6 months and lastly an year later. The study's aim is to see if those on Oxcarbazepine have a reduction in their neurofilament levels compared to placebo.


Eligibility criteria
– Age 18-60 years old.
– Early SPMS (secondary progressive MS); EDSS 3.5-6.0 (i.e. maximum level of disability is the requirement of a single aid to walk 100 meters, either a cane, crutch or a brace).
– On a disease modifying therapy (any) and no relapses or steroid use for the past 6 months.
– A history of slow progression over at least 6 months.
Exclusion criteria (cannot participate if any of these apply to you)
– Pregnant or breastfeeding or unwilling to use adequate contraception.
– Participants who do not take a disease modifying therapy for MS.
– A clinical relapse or pulsed intravenous or oral steroids in the 6 months preceding the baseline assessment.
– Participants presenting with medical disorder deemed severe or unstable, such as poorly controlled diabetes or arterial hypertension, severe cardiac insufficiency, unstable ischemic heart disease, abnormal liver function tests (>2.5 times ULN) and abnormal complete blood count (in particular leukopenia, as defined by a lymphocyte count <500, neutrophil count <1.5 or platelet count <100, or thrombocytopenia <1.5 LLN), or any medical condition which, in the opinion of the chief investigator, would pose additional risk to the participant.
– Infection with hepatitis B or hepatitis C or human immunodeficiency virus.
– Participants receiving other sodium or calcium channel blockers in the previous 12 weeks.
– Exposure to any other investigational drug within 30 days of enrolment in the study.
– Judged clinically to have a suicidal risk in the opinion of the investigator based upon a clinical interview and the Columbia Suicide-Severity Rating Scale (CSSRS).
– Prior history of malignancy unless an exception is granted by the Chief Investigator.
– History of uncontrolled drug or alcohol abuse within 6 months prior to enrolment into the study.
– Past untoward reactions to Oxcarbazepine or Carbamazepine.
So ladies and gentleman, returning to Ramon y Cajal, is also noted to have said: 'Reflecting on the nature of valid hypotheses, one may note that they are usually fortunate generalizations or daring inductions that allow one provisionally to consider the recently discovered data as one instance of a general principle…'