Walking speed and brain glucose uptake are uncoupled in patients with multiple sclerosis
John H. Kindred, Jetro J. Tuulari, Marco Bucci, Kari K. Kalliokoski and Thorsten Rudroff
Front. Hum. Neurosci., 18 February 2015 | doi: 10.3389/fnhum.2015.00084

Abstract
Motor impairments of the upper and lower extremities are common symptoms
of multiple sclerosis (MS). While some peripheral effects like muscle
weakness and loss of balance have been shown to influence these
symptoms, central nervous system activity has not been fully elucidated.
The purpose of this study was to determine if alterations in glucose
uptake were associated with motor impairments in patients with multiple
sclerosis. Eight patients with multiple sclerosis (four men) and eight
sex matched healthy controls performed 15 min of treadmill walking at a
self-selected pace, during which ≈322 MBq of the positron emission
tomography (PET) glucose analog [18F]-fluorodeoxyglucose
(FDG) was injected. Immediately after the cessation of walking,
participants underwent PET imaging. Patients with MS had lower FDG
uptake in ≈40% of the brain compared to the healthy controls (pFWE-corr < 0.001, qFDR-corr < 0.001, ke = 93851) and walked at a slower speed [MS, 1.1 (0.2), controls 1.4 (0.1), m/s, P
= 0.014]. Within the area of lower FDG uptake 15 regions were
identified. Of these 15 regions, 13 were found to have strong to
moderate correlations to walking speed within the healthy controls (r > −0.75, P < 0.032). Within patients with MS only 3 of the 15 regions showed significant correlations: insula (r = −0.74, P = 0.036), hippocampus (r = −0.72, P = 0.045), and calcarine sulcus (r = −0.77, P
= 0.026). This data suggest that walking impairments in patients with
MS may be due to network wide alterations in glucose metabolism.
Understanding how brain activity and metabolism are altered in patients
with MS may allow for better measures of disability and disease status
within this clinical population.
I normally consider PET studies to be an expensive way of finding out what we already know…but if its a sledgehammer that you need to get a point across, then who am I to question it?!
In essence fMRI (functional magnetic resonance imaging) is used to find out what the brain is doing when you perform a motor task using radiolabelled glucose ( [18F]-fluorodeoxyglucose (FDG)) that is injected during the activity intravenously (i.v.). The FDG uptake into the brain then measures the brain activity.
Not surprisingly in this study the self-selected walking speed of MS participants on the treadmill was slower than normal controls, so they made the some of the controls to walk slowly as well to avoid walking speed being a confounding factor in the study.
Overall, MSers showed reduced FDG uptake into ~40% of the brain. Only three (insula, hippocampus and calcarine sulcus) out of 15 (others being frontal cortex, occipital cortex, motor cortex, lateral temporal cortex, medial temporal cortex, cerebellum, anterior cingulum, precuneus, lingual, fusiform, thalamus and caudate), compared to 14 out of 15 regions in controls, were found to be correlated with waking speed (see figure below).
Therefore, there is a decoupling of brain glucose utilization and motor task performance, i.e. the brain network connections are altered in MS.
It is important to realize that x does not equal y as far as brain activity is concerned, brain activity is a huge network of nodes and connections (similar to those air route maps you see in the back of in-flight magazines!); functionality is therefore very much dependent on network efficiency. If network efficiency is affected in MS brains, can exercise encourage neuroplasticity and improve on this? Maybe this is an exercise that still needs to be done?!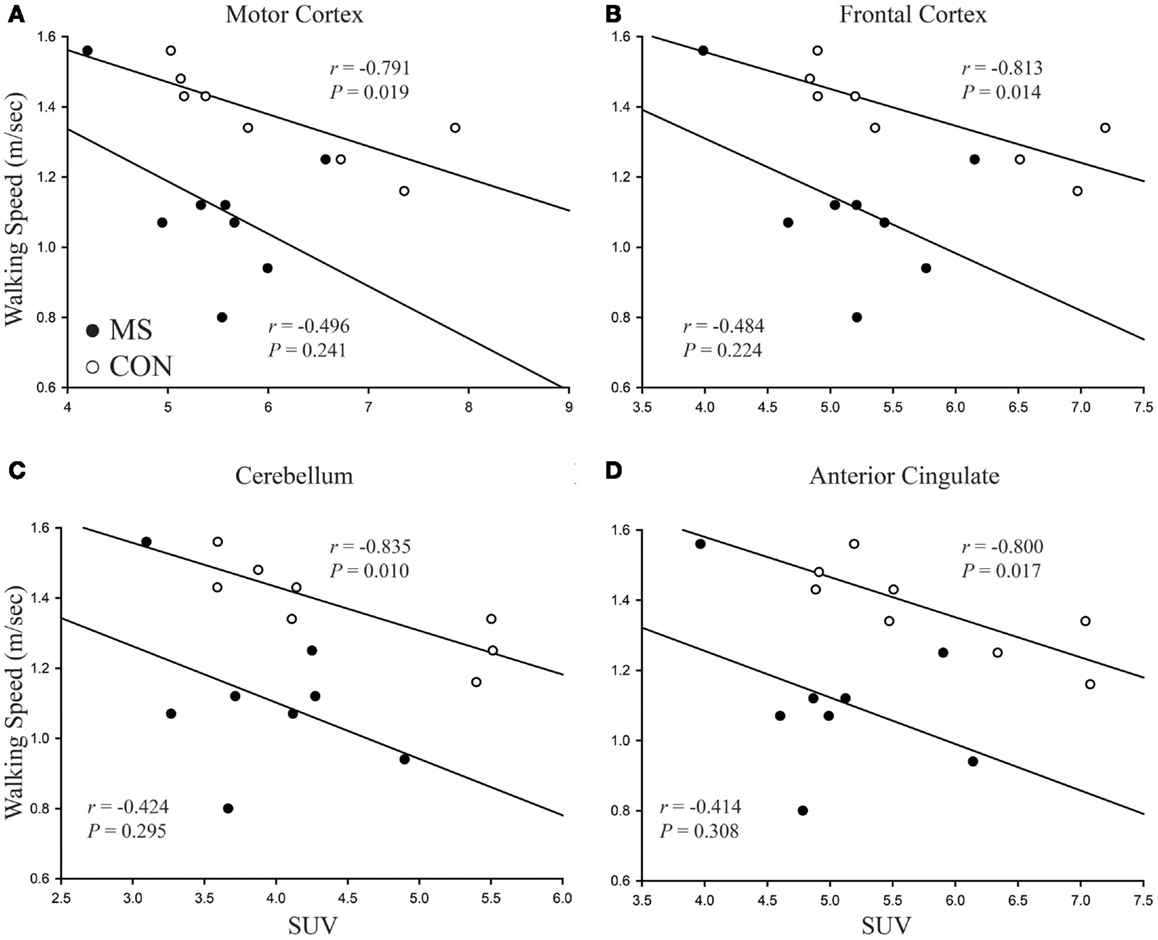 Figure: Visual representation of association between walking speed and brain region FDG uptake (MS=filled in dots, controls=open dots). In each instance the strength of association was less in MSers (bottom r value) than in controls (top r value). r is a coefficient measure of strength of association with a value of 1 being a direct association. SUV=standardized uptake values.
If other work along the same line interests you, please also check out my post on the 24th Feb 2014 – 'Is MS starving the brain?'.