Gold R, Arnold DL, Bar-Or A, Hutchinson M, Kappos L, Havrdova E, MacManus DG, Yousry TA, Pozzilli C, Selmaj K, Sweetser MT, Zhang R, Yang M, Potts J, Novas M, Miller DH, Kurukulasuriya NC, Fox RJ, Phillips TJ.
Long-term effects of delayed-release dimethyl fumarate in multiple sclerosis: Interim analysis of ENDORSE, a randomized extension study. Mult Scler. 2016 . pii: 1352458516649037. [Epub ahead of print]BACKGROUND: Delayed-release dimethyl fumarate (DMF) demonstrated strong efficacy and a favorable benefit-risk profile for patients with relapsing-remitting multiple sclerosis (RRMS) in phase 3 DEFINE/CONFIRM studies. ENDORSE is an ongoing long-term extension of DEFINE/CONFIRM.
OBJECTIVE:We report efficacy and safety results of a 5-year interim analysis of ENDORSE (2 years DEFINE/CONFIRM; minimum 3 years ENDORSE).
METHODS: In ENDORSE, patients randomized to DMF 240 mg twice (BID) or thrice daily (TID) in DEFINE/CONFIRM continued this dosage, and those initially randomized to placebo (PBO) or glatiramer acetate (GA) were re-randomized to DMF 240 mg BID or TID.
RESULTS: For patients continuing DMF BID (BID/BID), annualized relapse rates were 0.202, 0.163, 0.139, 0.143, and 0.138 (years 1-5, respectively) and 63%, 73%, and 88% were free of new or enlarging T2 hyperintense lesions, new T1 hypointense lesions, and gadolinium-enhanced lesions, respectively, at year 5. Adverse events (AEs; serious adverse events (SAEs)) were reported in 91% (22%; BID/BID), 95% (24%; PBO/BID), and 88% (16%; GA/BID) of the patients. One case of progressive multifocal leukoencephalopathy was reported in the setting of severe, prolonged lymphopenia.
CONCLUSION: Treatment with DMF was associated with continuously low clinical and magnetic resonance imaging (MRI) disease activity in patients with RRMS. These interim data demonstrate a sustained treatment benefit and an acceptable safety profile with DMF.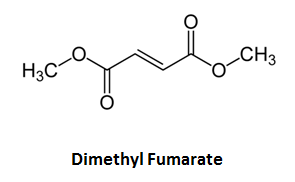 Here's the extension data of tecfidera