Kosa P, Ghazali D, Tanigawa M, Barbour C, Cortese I, Kelley W, Snyder B, Ohayon J, Fenton K, Lehky T, Wu T, Greenwood M, Nair G, Bielekova B.
Development of a Sensitive Outcome for Economical Drug Screening for Progressive Multiple Sclerosis Treatment.Front Neurol. 2016157:131. doi: 10.3389/fneur.2016.00131. eCollection 2016.
Therapeutic advance in progressive multiple sclerosis (MS) has been very slow. Based on the transformative role magnetic resonance imaging (MRI) contrast-enhancing lesions had on drug development for relapsing-remitting MS, we consider the lack of sensitive outcomes to be the greatest barrier for developing new treatments for progressive MS. The purpose of this study was to compare 58 prospectively acquired candidate outcomes in the real-world situation of progressive MS trials to select and validate the best-performing outcome. The 1-year pre-treatment period of adaptively designed IPPoMS (ClinicalTrials.gov #
NCT00950248
) and RIVITaLISe (ClinicalTrials.gov #
NCT01212094
) Phase II trials served to determine the primary outcome for the subsequent blinded treatment phase by comparing 8 clinical, 1 electrophysiological, 1 optical coherence tomography, 7 MRI volumetric, 9 quantitative T1 MRI, and 32 diffusion tensor imaging MRI outcomes. Fifteen outcomes demonstrated significant progression over 1 year (Δ) in the predetermined analysis and seven out of these were validated in two independent cohorts. Validated MRI outcomes had limited correlations with clinical scales, relatively poor signal-to-noise ratios (SNR) and recorded overlapping values between healthy subjects and MS patients with moderate-severe disability. Clinical measures correlated better, even though each reflects a somewhat different disability domain. Therefore, using machine-learning techniques, we developed a combinatorial weight-adjusted disability score (CombiWISE) that integrates four clinical scales: expanded disability status scale (EDSS), Scripps neurological rating scale, 25 foot walk and 9 hole peg test. CombiWISE outperformed all clinical scales (Δ = 9.10%; p = 0.0003) and all MRI outcomes. CombiWISE recorded no overlapping values between healthy subjects and disabled MS patients, had high SNR, and predicted changes in EDSS in a longitudinal assessment of 98 progressive MS patients and in a cross-sectional cohort of 303 untreated subjects. One point change in EDSS corresponds on average to 7.50 point change in CombiWISE with a standard error of 0.10. The novel validated clinical outcome, CombiWISE, outperforms the current broadly utilized MRI brain atrophy outcome and more than doubles sensitivity in detecting clinical deterioration in progressive MS in comparison to the scale traditionally used for regulatory approval, EDSS
Correlation matrix for 14 clinical and MRI measures in the cohort of 98 progressive MS patients. Correlation matrix for Mo −12 cross-sectional data (above the diagonal) and relative percentage change (Δ) over 1 year (below the diagonal) in the progressive MS cohort. The heatmap shows positive (shades of blue) and negative (shades of red) Spearman correlations.
It took neuros quite a few years to work out a trial design and find drugs that affect relapsing remitting MS. With MRI one can get a fair idea of an efficacious drug after about 6 months now. Progressive MS studies are still struggling to find effective treatments and studies currently take agents to recruit and complete.
Waiting for EDSS (motility scale) to change can take a long time in progressive MS. The imagers have been arguing for brain and spinal cord volume loss as an outcome, but we know that this outcome can fall foul of tissue swelling and is often missing the iceberg under the tip.
In this study they put imaging to the test as a method to detect progression and they put most of them to the sword. This is not surprising to me because ,we don't really know what many of the imaging outcomes are actually detecting in relation to patholgy.
When they looked at a number of measures, some showed progression over the year of analysis, including EDSS, Brain atrophy and 25m walk, but it was not all consisent.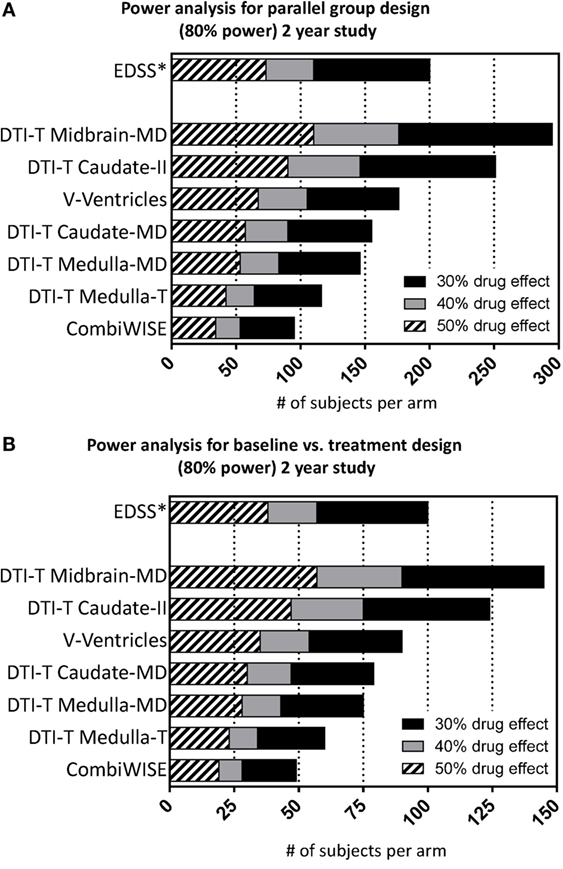 They came up with a combination to predict progression. * means multiply:
FAIL+1.305* logNDH-9HPT+10.751* NDHFAIL

CombiWISE
=
33.166
+
3.803
*
EDSS
−
0.407
*
SNRS
+
2.409
*
log
25
FW
+
18.056
*
25
FW
FAIL
+
1.305
*
logNDH-
9
HPT
+
10.751
*
NDH
FAIL
CombiWISE
=
33.166
+
3.803
*
EDSS
−
0.407
*
SNRS
+
2.409
*
log
25
FW
+
18.056
*
25
FW
FAIL
+
1.305
*
logNDH-
9
HPT
+
10.751
*
NDH
FAIL


So compared to EDSS, trials using CombiWISE as an endpoint would need half the participants. However, the regulators are a narrow-minded bunch of individuals who are resistant to change, so would they accept this? I am not sure.
There remains a large unmet need for development of therapies for progressive MS. While at any given time, multiple candidate therapies are available, the present bottleneck resides in the inability to screen them in small, but adequately powered, Phase II trials that can correctly predict efficacy on FDA-accepted clinical endpoint utilized for Phase III trials. This study provides a comparison of outcomes in the same patient group(s) within a real-world situation of Phase II clinical trials.
They suggest "Reliance on MRI markers as the primary outcome in progressive MS trials is currently not advisable because of their lack of surrogacy with clinical scales". Meaning the MRI oticome have no real reflection of what is occuring clinically however they also say clinical outcomes have sensitivity to detect change over the year, as none of them demonstrated statistically significant progression in all three longitudinal cohorts that were studied and yearly changes measured by different scales did not correlate"
EDSS represents only 28% of the CombiWISE score, and CombiWISE is more than twice as sensitive as EDSS in detecting progression of disability lies in the discreteness of EDSS: while a patient may remain on any given EDSS step for a long time, CombiWISE can detect continuous disease progression as measured by three alternative clinical scales.
CombiWISE has consistently higher sensitivity for detecting longitudinal changes in progressive MS in comparison to MRI measures of brain atrophy, currently broadly utilized in Phase II progressive MS trials. In contrast to all tested MRI measures, CombiWISE can predict changes in EDSS, presently used for regulatory approval. Substituting EDSS with CombiWISE requires over 100 fewer subjects per arm (200 versus 95) in a parallel-group design to detect a 30% drug effect in a 2-year study.


ProfG may want to comment on this but he has been banging his head against a preverbial wall when it comes to use of the EDSS as an endpoint for trials as it is slowing progresss.


He has said so many times that the EDSS needs to be replaced as primary endpoint with more responsive and sensitive measures. It will be interesting to see if Combiwise full fills the role of a major primary endpoint and it would be great to see re analysis of past progressive trials using the Combiwise outcomes to see if failure becomes success. Maybe they can get their hands on the natalizumab, fingolimod, ocreluzimab trials and have a look.