Do you know what your last liver function test showed? If not you should. #ClinicSpeak #MSBlog
Do you know what your latest liver function tests showed? If you have MS and are on a DMT you are likely to be having regular blood tests and one of them are LFTs or liver function tests. The paper below highlights that a rare complication (<1 in 1,000) of dimethyl fumarate (DMF) may be abnormal LFTs. These tend to occur early and be mild and transient and not associated with severe liver injury.
I personally don't recall seeing this in any of my patients. I thing to point out is that we shouldn't always blame the DMT when we see abnormal LFTs; in my experience they are usually due to another factor, for example excess alcohol intake, concomitant medications or food supplements. In addition, it appears that pwMS can develop autoimmune hepatitis that is a second autoimmune disease. I have seen three such patients, one on interferon-beta, one on glatiramer acetate and another on natalizumab. I have also seen several patients with MS develop viral hepatitis. What we tend to do if we detect abnormal LFTs is to withdraw the drug to see if the results normalise and then rechallenge. If the rechallenge results in the LFTs becoming abnormal then we can be more confident that it is the cause of the problem.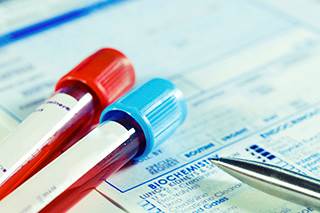 The message from this post is that you need to engage with your own monitoring; don't be shy to ask about your blood results.
Muñoz et al. Liver injury associated with dimethyl fumarate in multiple sclerosis patients. Mult Scler. 2017 Jan 1:1352458516688351
BACKGROUND: In pre-approval trials, there was an increased incidence of mild, transient elevations of liver aminotransferases in study subjects treated with dimethyl fumarate (DMF).
OBJECTIVE/METHODS: To evaluate post-marketing cases of drug-induced liver injury associated with DMF.


RESULTS: We identified 14 post-marketing cases of clinically significant liver injury. Findings included newly elevated serum liver aminotransferase and bilirubin levels that developed as early as a few days after the first dose of DMF. The pattern of liver injury was primarily hepatocellular. No cases resulted in liver failure.


CONCLUSION: Health professionals should be alerted to possible serious liver injury in patients receiving DMF.