How immunosuppressive is fingolimod? Does fingolimod's longterm immunosuppression result in an increased cancer risk?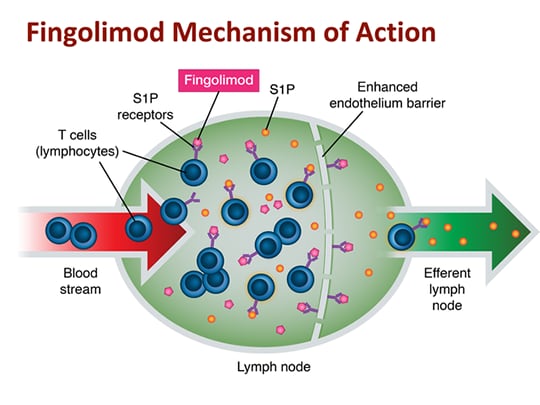 Am J Ther. 2017 Oct 27. doi: 10.1097/MJT.0000000000000694. [Epub ahead of print]
Fingolimod-Associated Intracerebral Lymphoproliferative Disorder.
Baharnoori M, Mahajan R, Solomon IH, Pinkus G, Houtchens M.

Abstract

Most epidemiological studies indicate that incidence of cancer in multiple sclerosis patients is lower than general population. However these studies were performed prior to the emergence of disease-modifying therapies (DMTs). The incidence of cancer may be influenced by newer generation DMTs which are immunomodulatory or immunosuppressant. We describe an atypical case of intracerebral plasmacytic lymphoproliferative disorder in a 47 years old patient on fingolimod. As worldwide usage of oral and infusion DMTs increases, heightened clinical suspicion and early recognition of these serious adverse events remain crucial.

Mult Scler Relat Disord. 2017 Nov 16;19:115-117. doi: 10.1016/j.msard.2017.11.014. [Epub ahead of print]
A Case of cutaneous large B-cell lymphoma during treatment of multiple sclerosis with fingolimod.
Stitt DW, Boes CJ, Flanagan EP, Howard MT, Colgan JP.

Abstract

The authors report a case of a 69-year-old woman with multiple sclerosis treated with fingolimod for duration of over one year who subsequently developed cutaneous large B cell lymphoma. There are few reported cases of lymphoma associated with fingolimod treatment for multiple sclerosis, but rates are higher than expected in the general population. The authors hope to promote awareness of the potential risk of this medication so that more diligent disease surveillance can be performed by both prescribing practitioners of fingolimod and their patients who receive it.

Mult Scler Relat Disord. 2017 Nov 22;19:121-123. doi: 10.1016/j.msard.2017.11.012. [Epub ahead of print]
Cutaneous anaplastic large cell lymphoma in a multiple sclerosis patient receiving Fingolimod.


OBJECTIVE:
Reporting a case of cutaneous large cell lymphoma in a multiple sclerosis patient during Fingolimod treatment.


METHOD:
Case study.


RESULT:
Our patient developed CD30+ cutaneous large cell lymphoma two years after initiation of Fingolimod treatment and her symptoms regressed following the cessation of treatment.
CONCLUSION:
This report indicates that cutaneous lymphoid neoplasms should be considered a possible side effect among patients receiving Fingolimod.


If regret is the gift that keeps on giving, wisdom surely is the quality that prevents us from reaching it in the first place? We talk of comparative efficacy and risk-benefit balance when it comes to immunomodulatory and immunosuppressant therapies in MS; it is so well-publicized and scrutinized in conferences and open days alike as to make 'risk' almost acceptable – almost…But unnoticed amidst these discussions is a growing slew of prescriber's who have as a result decided to play it safe, and not participate in the MS therapeutic revolution; which is as much a current threat as those who disregard its telltale warnings.
Fingolimod is a sphingosine 1 receptor modulator that sequesters lymphocytes in lymph nodes. In mouse models of myeloma and B-cell lymphoma, fingolimod appears to block the migration of tumor-specifc Th1 cells from lymph nodes to tumor sites (did not block the activation of tumor-specific CD4+ T cells in the draining lymph nodes), thereby preventing Th1-activation of tumoricidal macropahges resulting in cancer development (Lorvik et al. Blood 2012; 119: 2176-77).
Above, are three possibly related lymphoproliferative malignancies secondary to fingolimod use. The first is a case of CNS lymphoplasmacytic lymphoma (B cell lymphoma), and the latter two cases are of cutaneous B and T cell lymphoma. Skin related side effects of fingolimod appear more likely with higher doses, and henceforth the lower dose of 0.5mg is recommended for clinical use (Doggrell et al. Expert Opinion on Pharmacotherapy 2010,11(10):1777-81).
In their article, Baharnoori et al. describe other cases of lymphoma involving the brain, skin, conjunctiva, and blood noted in the post-marketing surveillance for fingolimod (see Table above). The rates of lymphoma after fingolimod use exceed that expected for the general population (Gilenya, A.G.N. 2017). They note that the risk of developing a lymphoproliferative disorder is very low, but call for long-term postmarketing extension studies in order to identify new cases. Due diligence and self-monitoring are also important; examining the skin for changes, and looking out for 'B' symptoms of lymphomas, such as night sweats, enlarged lymph nodes (neck, armpits, groin), and unintentional weight loss.
Side effects of this scale are not unique to fingolimod or to MS.

Our knowledge base at the point of drug licensing is insufficient to cover all the bases and is imperfect at best. Regulatory agencies, such as the FDA (US) and EMEA (Europe) understand this, and in their wisdom accept that the only way forward is through the applying of greater warnings or ultimately to restrict use.