AJNR Am J Neuroradiol. 2018 Oct 4. doi: 10.3174/ajnr.A5828. [Epub ahead of print]
Do All Patients with Multiple Sclerosis Benefit from the Use of Contrast on Serial Follow-Up MR Imaging? A Retrospective Analysis.
Mattay RR, Davtyan K, Bilello M, Mamourian AC.
Abstract
BACKGROUND AND PURPOSE:
Patients with multiple sclerosis routinely have MR imaging with contrast every 6-12 months to assess response to medication. Multiple recent studies provide evidence of tissue deposition of MR imaging contrast agents, questioning the long-term safety of these agents. The goal of this retrospective image-analysis study was to determine whether contrast could be reserved for only those patients who show new MS lesions on follow-up examinations.
MATERIALS AND METHODS:
We retrospectively reviewed brain MRIs of 138 patients. To increase our sensitivity, we used a previously described computerized image-comparison software to evaluate the stability or progression of multiple sclerosis white matter lesions in noncontrast FLAIR sequences. We correlated these findings with evidence of contrast-enhancing lesions on the enhanced T1 sequence from the same scan.
RESULTS:
Thirty-three scans showed an increase in white matter lesion burden. Among those 33 patients, 14 examinations also demonstrated enhancing new lesions. While we found a single example of enhancement of a pre-existing white matter lesion that appeared unchanged in size, that same examination showed an overall increase in lesion burden with enhancement of other, new lesions. Thus, we found that all patients with enhancing lesions had evidence of progression on their noncontrast imaging.
CONCLUSIONS:
Because all enhancing lesions were associated with new lesions on unenhanced imaging and progression was only evident in 24% of patients, in patients with relapsing-remitting MS, it is reasonable to consider reserving contrast for only those patients with evidence of progression on noncontrast MR images.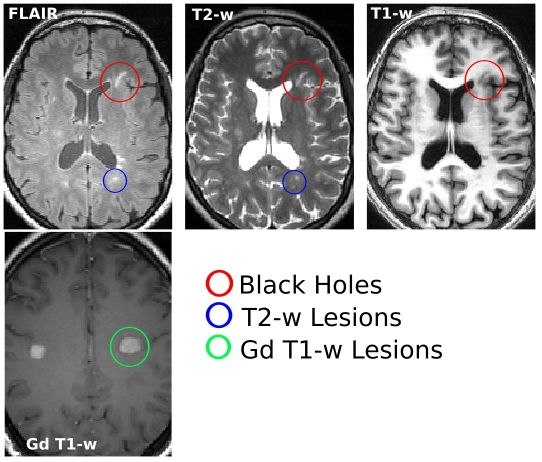 Some forms of practice are entrenched in routine. MRI imaging sequences obtained to monitor MS for instance are pretty similar across the globe regardless of disease duration and type – T1/T2-weighted, FLAIR, plus contrast (gadolinium enhancement). The use of contrast reagents, particularly the older linear contrast agents, have received a lot of attention of late because their deposition in the brain, leading to FDA and EMA warnings (see below).
Despite this, it is standard practice in large MS centers to request regular, scheduled contrast-enhanced MRIs, as frequently as every year; in order to judge treatment efficacy and to see if there is any underlying disease activity in the absence of clinical relapses. Although, clearly a more evidenced based approach is needed to justify the frequency of contrast administration. One approach would be to test in what situations can non-enhanced images reliably predict disease stability?


To this end, Mattay et al. have done a study to test whether there could be enhancing lesions in those where FLAIR imaging is stable (i.e. without new or enlargement of pre-existing lesions). The presence of enhancing lesions with or without changes on the FLAIR images, was recorded.


Twenty-four percent of the scans examined demonstrates an increase in disease activity. Of these 10% had contrast-enhancing lesions. Only in one case was there enhancement of a single pre-existing lesion that appeared to have not increased in size. However, the same scan showed an overall increase in lesion number with enhancement of other newly formed lesions.
In short, there does not appear to be any added benefit of giving contrast over and above that of increased lesion burden. One could therefore argue that, since the proportion of individuals with worsening lesion load is a small proportion, there is no need for contrast administration in those with stable disease.