In real-world terms, figures from the Swedish MS registry demonstrate that most PwMS discontinue a first-line DMT within 2 years of starting.
Side effects make up bulk of the reasons, followed by lack of efficacy.
When you consider highly-active treatments, their high efficacy outcomes go a long way to compensating for their down-side. When faced with the low efficacy drugs, their side effect profile become their sticking point.
Dimethyl fumarate (DMF) or Tecfidera, for instance has the unpalatable abdominal gripes and other GI side effects. It is quoted to account for 4% of discontinuations, but in real-life terms the overall figure may be higher than this. In the study presented below they looked at 100 PwMS starting delayed release DMF and found a discontinuation rate of 13% within 6 months of initiation; with 9% of PwMS discontinuing because of gastrointestinal tolerability issues – that's just under 1 in 10! (see Figure below).
If I'm seeing patients in clinic say yearly, by the their next appointment they may well be on another treatment, or worse back to no treatment at all.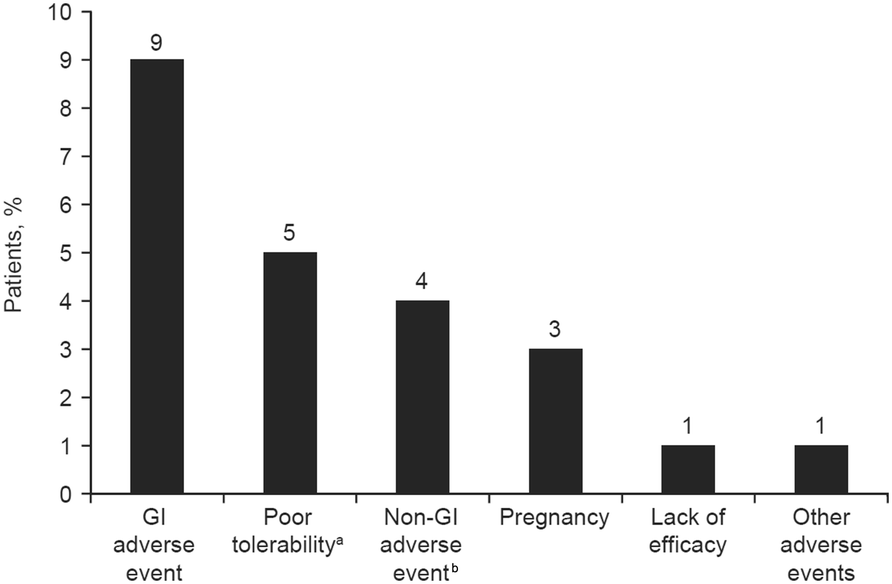 All is not lost, however. The second-generation dimethyl fumarate, diroximel fumarate is purported to have greater tolerability and less gastrointestinal side effects. In the EVOLVE-MS-1 trial less than 1% discontinued diroximel fumarate because of gastrointestinal side effects. The only downside is that it's currently only available State side.
Abstract
Neurol Ther. 2019 Dec 13. doi: 10.1007/s40120-019-00174-3. [Epub ahead of print]
A Retrospective Analysis of Real-World Discontinuation Rates with Delayed-Release Dimethyl Fumarate in Patients with Relapsing-Remitting Multiple Sclerosis.
INTRODUCTION:
The main objective of this study was to examine discontinuation rates associated with delayed-release dimethyl fumarate (DMF) when used for the treatment of relapsing multiple sclerosis (MS) in a real-world, clinical practice setting.
METHODS:
Data were collected retrospectively from charts of adult patients with relapsing-remitting MS treated at a single large institution in Australia, who completed at least 6 months of continuous therapy, either with DMF or another MS medication administered following DMF discontinuation. The primary endpoint was overall discontinuation rate. Secondary endpoints included discontinuation rate 6 months after initiation of DMF therapy; incidence of adverse events, particularly gastrointestinal events; discontinuation rate because of adverse events; and use of concomitant medications by patients during administration of DMF.
RESULTS:
A total of 100 patients initially prescribed DMF between October 1, 2013 and June 30, 2014 were included in the analysis. The mean age of the patients was 43 years and 80% were female. The overall discontinuation rate was 13%, with 9% discontinuing because of gastrointestinal tolerability issues, within the first 6 months. Dose changes as a result of adverse events occurred in 15% of patients, and none of the adverse events reported were serious. Only one patient discontinued owing to lack of efficacy.
CONCLUSION:
This study, conducted shortly after the approval of DMF in Australia when first-hand clinical experience was still limited, demonstrated that DMF has an acceptable tolerability profile in the real-world setting that is similar to that demonstrated in clinical trials.