If you buy into the mantra that a B cell therapy only works on B cells, then think again. Like a debutante three years shy of their first season, successful targeted therapies in the immune world are disappointing to say the least, and most definitely fall short of initial expectations.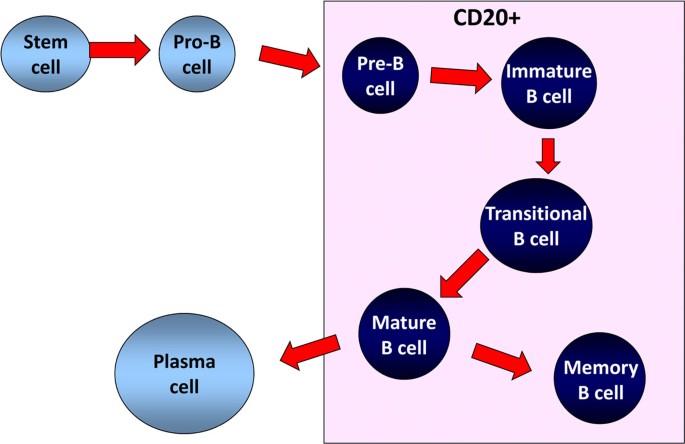 Ocrelizumab a humanized monoclonal antibody targeting CD 20 on the surface of B cells during their development, was the first to capitalize on this.
Later on it became apparent that a small set of T cells also expressed CD 20.
Not neutrophils, however.
Neutrophils are the most abundant immune sub type and are your first responders against invading microbes.
Then why should ocrelizumab have off-target effects?
The crux may be the sustained immune-suppression from repeated regular infusions. Although, here the authors cross-reference rituximab (a similar anti-B cell therapy) stating other mechanisms for this, such as an undetected sub-clinical infection (chronic infections can lower neutrophil counts), antibody-mediated destruction, neutrophil self destruction triggered by the Fas pathway (tantamount to an auto self-destruct button), and changes in the bone marrow reserve and architecture.
Whether, late-onset neutropenia is a self-limiting adverse event and doesn't require the discontinuation of ocrelizumab remains to be seen, as this is a single case report.
ABSTRACT
J Neurol Sci. 2019 Nov 28;409:116603. doi: 10.1016/j.jns.2019.116603. [Epub ahead of print]
Late onset absolute neutropenia associated with ocrelizumab treatment in multiple sclerosis: A case report and review of the literature.
Zanetta C, Robotti M, Nozzolillo A, Sangalli F, Liberatore G, Nobile-Orazio E, Filippi M, Moiola L.
Highlights
Ocrelizumab could be associated with late onset neutropenia (LON).
Rates of infections after LON range from 0 to 20%, infections usually are self-limited.
LON does not seem to require ocrelizumab discontinuation.
Ocrelizumab warrants cell blood count monitoring.