Alemtuzumab. The irony of Humanisation. Part V…
David Baker, Liaqat Ali, Gauri Saxena,  Gareth Pryce,  Meleri Jones,  Klaus Schmierer, Gavin Giovannoni, Sharmilee Gnanapavan,  Kathleen C. Munger,  Lawrence Samkoff, Andrew Goodman and  Angray S. Kang. The irony of humanization: Alemtuzumab the first, but one of the most immunogenic, humanized monoclonal antibodies Front. Immunol. doi: 10.3389/fimmu.2020.00124
This has been posponed until the manuscript goes online so back on monday to finish it off, but you can read the abstract now. But whilst looking through the new additions in the journal I came upon this one article below
I have been a memory B cell supporter but I keep an open mind and it is likely that B cells help T cells and vice versa. Does this new paper dent the memory B cell idea? On the surface you say yes, but I think no, but it says we need independent assessment to the CARE-MS data.
Event-Driven Immunoprofiling Predicts Return of Disease Activity in Alemtuzumab-Treated Multiple Sclerosis Akgün et al. Front Immunol https://doi.org/10.3389/fimmu.2020.00056
Background: Alemtuzumab is a highly effective drug for the treatment of multiple sclerosis (MS), characterized by specific patterns of depletion and repopulation. As an induction-like treatment concept, two mandatory infusion courses can inhibit long-term disease activity in the majority of patients, and additional courses can successfully manage subsequent re-emergence of disease activity. Currently, there are no biomarkers to identify patients with re-emergent disease activity requiring retreatment.
Methods: In this study, we systematically characterized 16 MS patients commencing alemtuzumab. Clinical parameters, MRI and detailed immunoprofiling were conducted every 3 months for up to 84 months.
Results: Alemtuzumab led to significant decrease in clinical disease activity in all evaluated patients. Nine out of 16 patients presented with no evidence of disease activity (NEDA)-3 up to 84 months ("complete-responder"), while 7 patients demonstrated clinical or/and subclinical MRI disease activity and received alemutzumab retreatment ("partial-responder"). In both response categories, all T- and B-cell subsets were markedly depleted after alemtuzumab therapy. In particular, absolute numbers of Th1 and Th17 cells were markedly decreased and remained stable below baseline levels—this effect was particularly pronounced in complete-responders. While mean cell numbers did not differ significantly between groups, analysis of event-driven immunoprofiling demonstrated that absolute numbers of Th1 and Th17 cells showed a reproducible increase starting 6 months before relapse activity. This change appears to predict emergent disease activity when compared with stable disease.
Conclusion: Studies with larger patient populations are needed to confirm that frequent immunoprofiling may assist in evaluating clinical decision-making of alemtuzumab retreatment.
This study looks at the absolute number of cells after alemtuzumab and shows that in people who are responding well to allemtuzumab the T cells do not reach normal levels for over 7 years, which is not exactly the inference in the European Label that things are back to normal relatively quickly. Both Th1 and Th17 cells were depleted for 7 years. Memory B cells get back to baseline within 2.5 years for the treatment onset and had a bit of an overshoot at year 3-4.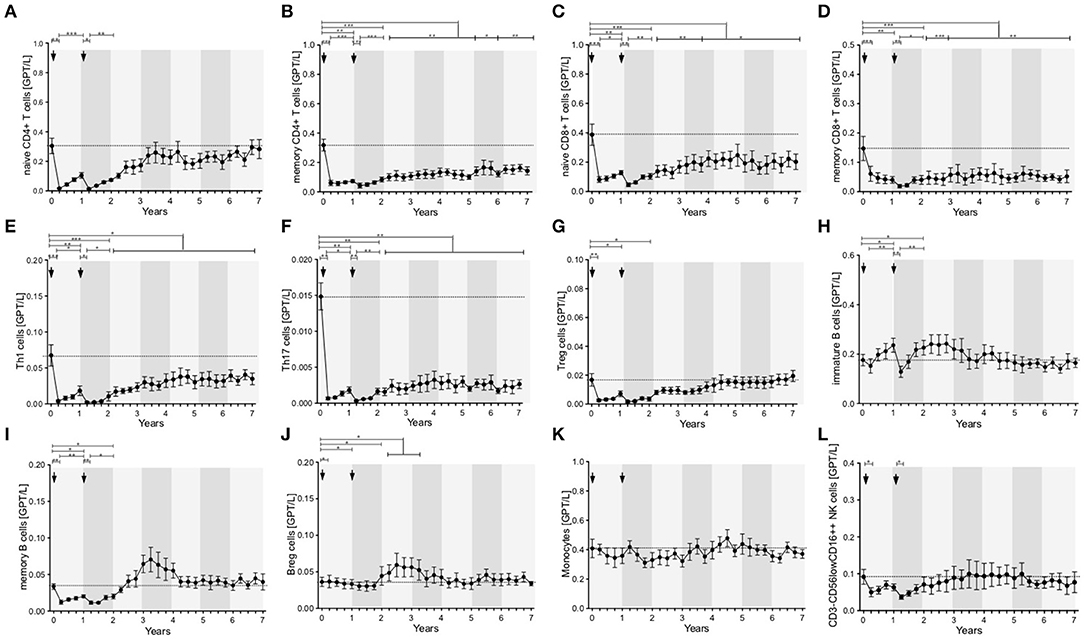 What happened in the people who showed disease breakthrough? On a population based approach you can't see the wood for the trees just like has been said by the author's, German Colleagues, who published what looked like a company sponsored paper. This looked at the depletion over a couple of years and then tried to associate it with disease break through over 5 years. They found nothing rather unsurprsingly. Oh well, as we don't know where to look we maintain the Staus Quo and we can keep flip-flopping.
As you know I never was a Status Quo fan
Lymphocyte pharmacodynamics are not associated with autoimmunity or efficacy after alemtuzumab.Wiendl H, Carraro M, Comi G, Izquierdo G, Kim HJ, Sharrack B, Tornatore C, Daizadeh N, Chung L, Jacobs AK, Hogan RJ, Wychowski LV, Van Wijmeersch B; CARE-MS I, CARE-MS II, and CAMMS03409 Investigators. Neurol Neuroimmunol Neuroinflamm. 2019 ;7(1). pii: e635.
However the Dresden group, here thought that if you look at the data with a critical eye and relate cell repopulation to disease breakthrough, to you may be able to see something.
Analyzing the time period 12 months before the MS relapse in an event-driven manner, CD4+ T cells, CD8+ T cells, CD19+ B cells, as well as naïve and memory T cell subsets and Treg cells, immature B cells and B reg cells, were stable and did not significantly differentiate between good and parial responders.   However, they could demonstrate an absolute increase of Th1 and Th17 cells starting 9 months before relapse and peaking at the relapse itself . They did not see an effect on memory B cells, although they say a small albeit insignificant increase observed in the memory B cell counts starting 6 months before relapse, with highest values at clinical onset of the relapse itself. Clearly that TH1 and TH17 are flatlined for 7 years allows an increase to be seen, which may be masked in part by the natural recovery of memory B cells.
This conclusion has been reported before Clinical relevance of differential lymphocyte recovery after alemtuzumab therapy for multiple sclerosis. Cossburn MD, Harding K, Ingram G, El-Shanawany T, Heaps A, Pickersgill TP, Jolles S, Robertson NP. Neurology. 2013;80(1):55-61. This view was quickly put down by Cambridge using their data, but perhaps an independent look at the CARE-MS data with the same critical eye should be able to confirm or refute the data from the 16 people looked at here.
They (Weindl et al) have made "data availablity for CARE-MS" statement in the paper by Weindle, time to get independent analysis of depletion and anti-drug antibody data.