Sometimes it's better the devil you know than the one you don't.
Alemtuzumab came into disfavor following the European Medicines Agency (EMA) Article 20 procedure surrounding certain rare side effects. There couldn't have been a deeper grave to crawl out of.
In my mind the group most to gain from alemtuzumab have always been those early on in their disease before disability sets in. I stand corrected.
Real life data from Israel suggests that even at an average EDSS score of 4.8 (the first milestone where there is limitation of walking) there is stabilization of disability progression within 2 years of starting (see Figure below).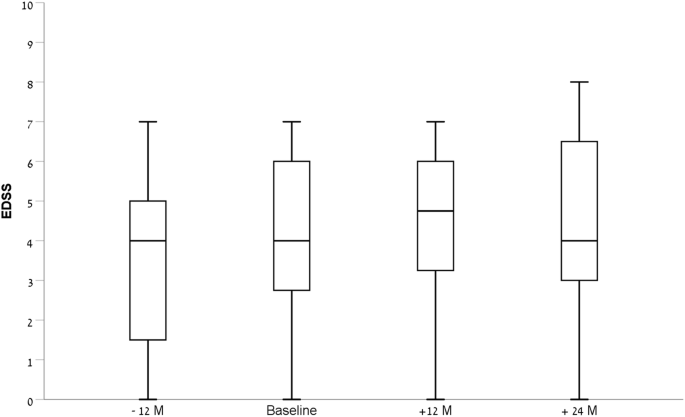 How is alemtuzumab achieving this?
Most likely through a reduction in relapse rate. In the year preceding treatment the average relapse rate was 2, which later became 0 after 2 years of treatment (see figure below).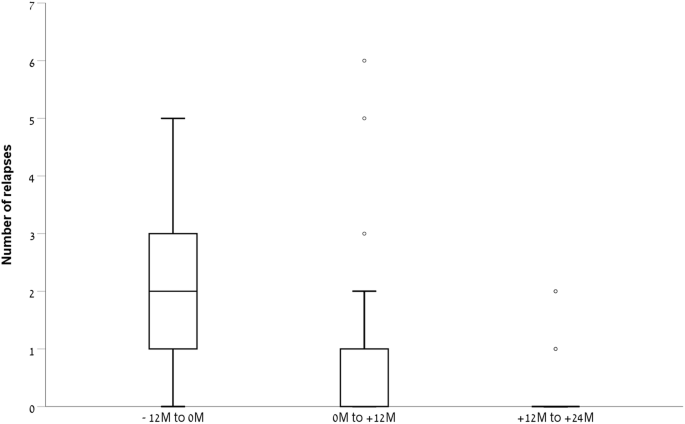 Abstract
Acta Neurol Belg. 2020 May 23. doi: 10.1007/s13760-020-01375-6. Online ahead of print.
Efficacy and Safety of Alemtuzumab Treatment in a Real-World Cohort of Patients With Multiple Sclerosis
Ofir Zmira, Alex I Halpern , Lital Abraham , Anat Achiron
Alemtuzumab is a monoclonal anti-CD52 antibody prescribed to treat relapsing-remitting multiple sclerosis (RRMS). Alemtuzumab affects the balance of the immune system by depleting circulating lymphocytes, leading to the formation of a new immune repertoire less likely to induce autoimmune attack against CNS myelin. We collected real-world data of RRMS patients treated with alemtuzumab. We assessed relapse rate, disability progression, and MRI-related disease activity over a 24 month period. Our study included 35 RRMS patients (19 female and 16 male) with a mean age of 37.3 years (SD = 10.5). The patient cohort had a mean disease duration of 10.4 years, median previous disease modifying treatments (DMTs) of 3.0, and a median expanded disability status scale (EDSS) score of 4.0 (IQR 2.5-6.0). Neurological disability remained stable during treatment and there was no statistically significant change in EDSS score. Prior to treatment, the median relapse rate was 2.0 (IQR 1.0-3.0); after treatment the median relapse rate was 0.0. This 2.0 decrease in relapse rate is statistically significant (p < 0.0001). Moreover, the treated patients exhibited a statistically significant decrease in gadolinium (GD) enhancing lesions on MRI [both in number (p < 0.005) and volume (p < 0.005)]. Thirty-three percent of patients reached NEDA-3 (no evidence of disease activity) status by the end of treatment. In a real-world setting, alemtuzumab treatment significantly decreased relapse rate and GD-enhancing lesions while preventing disability progression. Tolerability of treatment was high, with patients experiencing only minor adverse events.