Non-Hodgkin's Lymphoma (a cancer involving predominantly of B cells) involving the brain, also known as primary CNS lymphoma (PCNSL) is something I see every year like clock work for the haem-oncology service at St Bartholomew's Hospital, London. And despite the regularity of my visits, there is something extraordinary about the whole experience.
You start to either vegetate or have kittens when working in a cancer centre. Let's say my day job treating MS by comparison comes with a sense of satisfaction that is difficult to muster when dealing with cancer. But, over time I have also found myself changing in my management of MS as a unexpected side effect of all of this.
NHL is commoner than the nice/but recalcitrant Hodgkin's variety, and flits around the body like an immune cell on speed, eventually finding a foothold in the central nervous system (see Table below for the differences between the two).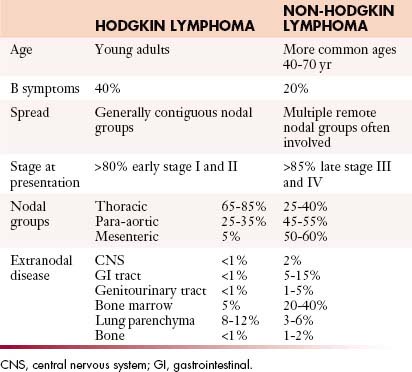 My usual patient with PCNSL is middle aged or older, has other disorders and co-morbidities, and may have received quiet a few immunosuppressants prior to their diagnosis or are immunosuppressed, for example with HIV. Although, there is not much evidence for stopping treatment in MS, I have begun in other autoimmune conditions that I manage to withdraw immunosuppressant's after a period of disease stability and as the person ages.
And there maybe a reason to do this also in MS. In a metanalysis 1103 publications of autoimmune disorders in PCNSL, only 39 (50 cases) could be analysed. The common disorders were SLE (n=12, 24%), MS (n=8, 16%), myasthenia gravis MG (n=7, 14%), rheumatoid arthritis RA (n=6, 12%), autoimmune uveitis (n=3, 6%) and myositis (n=3, 6%); see Figure below. Disorders that display severe disease activity and require heavy immunosuppression.
Immunosuppressants prior to diagnosis included prednisolone (n=33, 69%), mycophenolate mofetil (n=20, 42%), azathioprine (n=20, 42%), and methotrexate (n=9, 19%).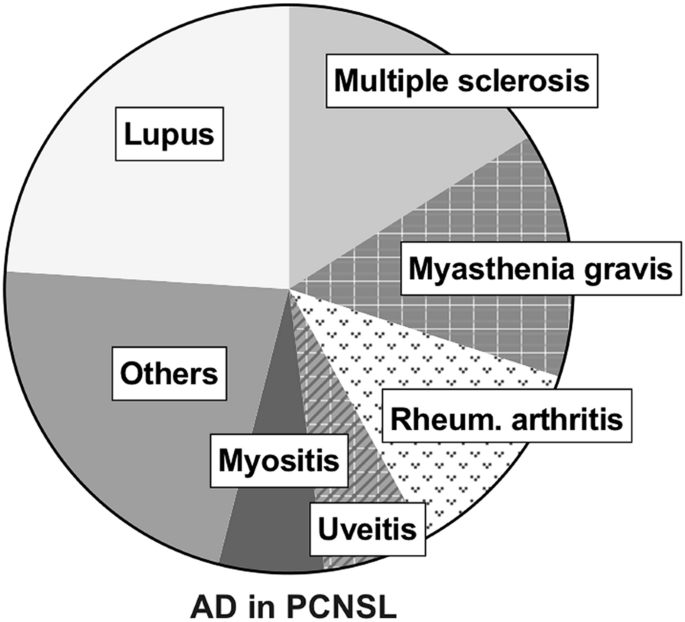 They were mostly diffuse large B-cell lymphoma (DLBCL) n=37, 80% and Epstein-Barr-virus was reported in 36 cases. After diagnosis, immunosuppression was reduced in all 27 cases where such information was available. Treatment consisted of chemotherapy alone (methotrexate, rituximab or cytarabine), or chemotherapy and whole brain irradiation. The median overall survival (n=37) was 8, 5 and 25 months in SLE-, MS-, and MG-associated PCNSL (although not statistically significant between groups owing to the small numbers).
Abstract
 Neurooncol. 2020 Jul 18. doi: 10.1007/s11060-020-03583-9. Online ahead of print.
Autoimmune disease-related primary CNS lymphoma: systematic review and meta-analysis
Leon D Kaulen, Philipp Karschnia, Jorg Dietrich, Joachim M Baehring
Background: Recent studies suggest a relatively high prevalence of autoimmune disorders (AD) among primary CNS lymphoma (PCNSL) patients, however, the literature is limited to case reports. To gain a better understanding of AD-PCNSL we reviewed and analyzed all cases described in the literature.
Methods: We searched the MEDLINE database using the search terms 'central nervous system lymphoma' or 'CNS lymphoma' along with AD-related terms. We selected 39 records for qualitative synthesis of data and identified 50 AD-PCNSL. Clinical, imaging and outcome data were collected. Overall survival (OS) was analyzed with the Kaplan-Meier method. Univariate and multivariate analyses were performed using log rank test and Cox proportional hazard model.
Results: Most common AD were systemic lupus erythematosus (24%), multiple sclerosis (16%), and myasthenia gravis (14%). All patients had received immunosuppressants for their AD. Median interval from AD until PCNSL diagnosis was 108 months (range: 11-420). Male-to-female ratio was 0.42 and AD-PCNSL was diagnosed at a median age of 57 years (range: 2-88). On imaging lesions typically localized to the hemispheres (65%) and displayed peripheral enhancement (74%). Pathological evaluation revealed diffuse large-B-cell lymphoma (DLBCL) subtype (80%) and Epstein-Barr virus positivity (75%) in most AD-PCNSL. Median OS was 31 months. Age > 60 years (p = 0.014) was identified as a significant prognostic factor.
Conclusions: AD requiring immunosuppression appear over-represented in the population of PCNSL patients. Aggressive polychemotherapy can accomplish long term OS in AD-PCNSL comparable to immunocompetent patients. Age > 60 may serve as a prognostic factor.