You may know that symptoms can get worse when you are too hot and this is because temperature can affect how nerves function. We have been looking into the reasons behind this and can see a way to potentientially reduce this
Mark Baker
Mechanism of sodium ion movement in optic nerve axons and implications for MS
Energy deficit in neurons and axons is part of the zeitgeist of present-day MS research, because neurodegeneration is thought to be the result. The recent focus on what sodium ions are doing is because a major energy expense incurred in the brain is the removal of sodium ions from the intracellular compartment (inside of the cell), in order to maintain synaptic transmission and impulses.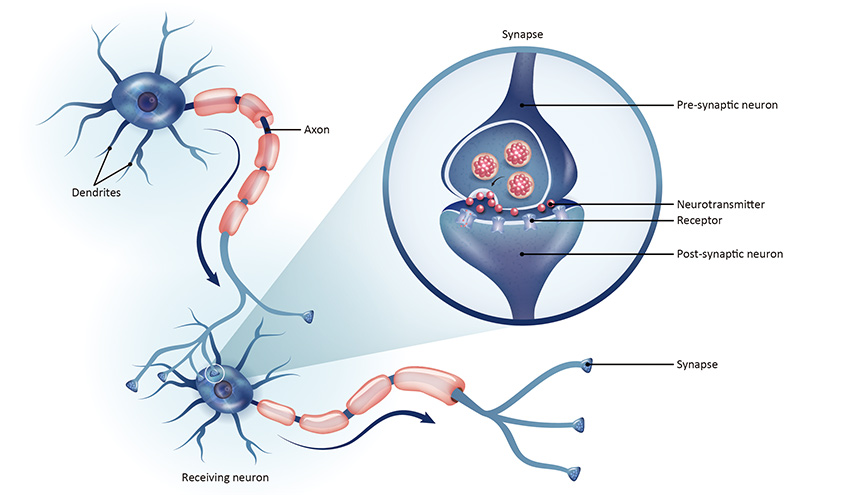 We have continued to investigate the possibility that electroneutral movement of sodium ions (Na+) is important. Electroneutral means movement of ions across the membrane, without the necessary requirement of charge moving with the ions. This can come about in two ways, either by a transport mechanism moving equal numbers of +ve and -ve ions together, or by exchanging different +ve ions across the membrane.
Our most recent findings have been published in Scientific Reports (Austerschmidt et al 2020; http://www.nature.com/articles/s41598-020-69728-y), and they are consistent with the idea that part of the Na+ influx is caused by Sodium (Na+) and chloride (Cl-) ions crossing the axon membrane together on a transporter molecule that can be blocked by the loop diuretic bumetanide (Diuretics are sometimes called "water pills/tablets" because they make you pee more). This helps get rid of extra fluid in your body. But in addition to this, we are now confident that there is at least one other mechanism bringing Na+ into the axons electroneutrally, whose nature is not yet determined, but that is very sensitive to the partial replacement of Na+ ions in the extracellular (outside of the cell) solution. It is therefore an important next step to determine what that mechanism is. This electroneutral flux of Sodium (Na+) ions into the largest optic nerve axons brings about a temperature dependence of the resting potential of about -2 mV (thousandth of a volt) per °C (Degree centigrade) increase in temperature around 37 °C, and reduces the excitability of the axons with warming. We have calculated that in these axons something like 4 or 5 times as much Na+ is coming in at rest than hitherto thought through open ion channels, the largest part being electroneutral flux, that increases with warming.
One possibility is that agents that can reduce the electroneutral flux of Na+ in the brain may be able to reduce temperature-dependent symptoms in MS, where the symptoms are caused by impulse conduction failure with a fall in excitability. In the longer term, such an agent may provide neuroprotection because it should reduce the energy requirement involved in pumping Na+ ions out of the axons. A big problem is that, at present, we do not have drugs that can penetrate the brain and help us do this.
You can read the paper here
Lavinia J. Austerschmidt, Azab Khan, Dafydd O. Plant, Ella M. B. Richards, Sophie Knott, Mark D. Baker  The effects of temperature on the biophysical properties of optic nerve F-fibres Scientific Reports volume 10, Article number: 12755 (2020) 
In multiple sclerosis, exacerbation of symptoms with rising body temperature is associated with impulse conduction failure. The mechanism is not fully understood. Remarkably, normal optic nerve axons also show temperature dependent effects, with a fall in excitability with warming. Here we show two properties of optic nerve axons, accommodation and inward rectification (Ih), respond to temperature changes in a manner consistent with a temperature dependent membrane potential. As we could find no evidence for the functional expression of KV7.2 in the axons, using the K+ channel blocker tetraethylammonium ions, we suggest this may explain the membrane potential lability. In order to understand how the axonal membrane potential may show temperature dependence, we have developed a hypothesis involving the electroneutral movement of Na+ ions across the axon membrane, that increases with increasing temperature with an appropriate Q10. Part, but probably not all, of the electroneutral Na+ movement is eliminated by removing extracellular Cl− or exposure to bumetanide, consistent with the involvement of the transporter NKCC1. Numerical simulation suggests a change in membrane potential of − 15–20 mV mimics altering temperature between room and physiological in the largest axons.
COI: None