The original phenytoin study, published by the team at University College London, demonstrated that the use of phenytoin (- sodium channel blocker) for three months after the onset of acute optic neuritis was neuroprotective.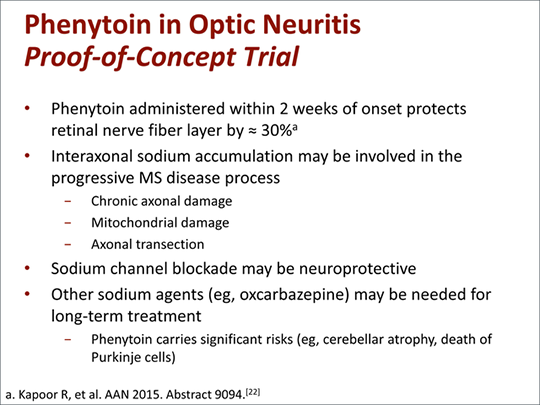 We have now analysed the blood samples taken for neurofilament analysis and found that neurofilament heavy chain levels (as opposed to light chain levels) reduced only in those on phenytoin (see below). The lack of reduction in neurofilament light chain levels may be a fluke, or it may be that sodium channel blockers work more effectively in stabilizing the large myelinated axons, where the heavy chain is more abundant.
More work is to explore the differences and similarities between the light and heavy chain when it comes to neurodegeneration in MS, and the impact of sodium channel blockers.
Many of you may be on sodium channel blockers for neuropathic pain control. To date there is positive animal data on sodium channel blockers as neuroprotectants preventing disability in mice, neurofilament heavy chain data in Secondary Progressive MS (SPMS), oxcarbazepine in SPMS and now this in Optic neuritis. It is now time to look at funding a larger Phase III study to evaluate this in Optic Neuritis and Progressive MS – anyone game for this???
Abstract
Eur J Neurol . 2020 Oct 14. doi: 10.1111/ene.14591. Online ahead of print.
Neurofilament Results for the Phase II Neuroprotection Study of Phenytoin in Optic Neuritis
Rhian Raftopoulos , Jens Kuhle, Donna Grant , Simon J Hickman , Daniel R Altmann, David Leppert , Kaj Blennow, Henrik Zetterberg , Raj Kapoor , Gavin Giovannoni , Sharmilee Gnanapavan
Background: A randomized trial of phenytoin in acute optic neuritis (ON) demonstrated a 30% reduction in retinal nerve fiber layer (RNFL) loss with phenytoin versus placebo. Here we present the corresponding serum neurofilament analyses.
Methods: Eighty-six acute ON cases were randomised to receive phenytoin (4-6 mg/kg/day) or placebo for 3 months, and followed up for 6 months. Serum was collected at baseline, 3, and 6 months for analysis of neurofilament heavy chain (NfH) and light chain (NfL).
Results: Sixty-four had blood sampling. Of these, 58 and 56 were available at 3 months, and 55 and 54 were available at 6 months for NfH and NfL, respectively. There was no significant correlation between serum NfH and NfL at the time points tested. For NfH, the difference in mean placebo – phenytoin was -44 pg/ml at 3 months (p=0.019), and -27 pg/ml at 6 months (p=0.234). For NfL, the difference was 1.4 pg/ml at 3 months (p=0.726), and -1.6 pg/ml at 6 months (p=0.766).
Conclusions: At 3 months, there was a reduction in NfH, but not NFL in the phenytoin versus placebo group, while differences at 6 months were not statistically significant. This suggests a potential neuroprotective role for phenytoin in acute ON, with the lower NfH at 3 months, when levels secondary to degeneration of the anterior visual pathway are still elevated, but not at 6 months, when levels have normalized.