Let's face it…It has been a SH1 year…in more ways than I can explain at the moment.
MS-research and our live's have been put on hold.
From the selfish prospective, hopefully ProfG will make a complete recovery after his accident and he will be back in the near future. We have sent him a year's supply of razors, as it seems he has set the challenge to be ZZ Top's number one fan, or is it…to be Santa in the local grotto. We have done this just in case ProfG gets mistaken for a "homeless person" on one of his walks and takes a meal from one of London's less fortunate people.
I will be trapped at home today, along with a few million other people, when I would be rather be elsewhere…staying safe.
Hopefully you can enjoy your Christmas Pudding today, but if not, pop round to my place….in a socially-distanced way of course:-)…. to enjoy my Christmas pud (below) in the front garden.
Alternatively….If you have a few moments and want a bit of Feastive cheer, here is a bit of entertainment (click on the link below) created by Dr Angry's chums from the East End of London. This was from Leyton (A place in the East End of london…The MS-COVID-19 Assay triangle) Town Hall and streamed into the Local Care Homes along with Hampers filled by Ms.Angry and friends.
However, if you are trapped at home why not spend an hour for some feastive cheer.
I'm well impressed by the production…Enjoy.
However you don't have to be alone….get on a Zoom/Teams/etc. You never know who you will meet.
ProfK in a feastive spirit? ProfB after abit of feastive spirit? and what makes Joela (our ace pharmacist at the Royal London who gets your doses sorted out) Laugh? After our meeting we have now sent Rentokil around to get rid of the Insect infestation:-). Christine C and Rachel H had some probing questions…what did they say?..Well that's your Boxing day/New Year present;-)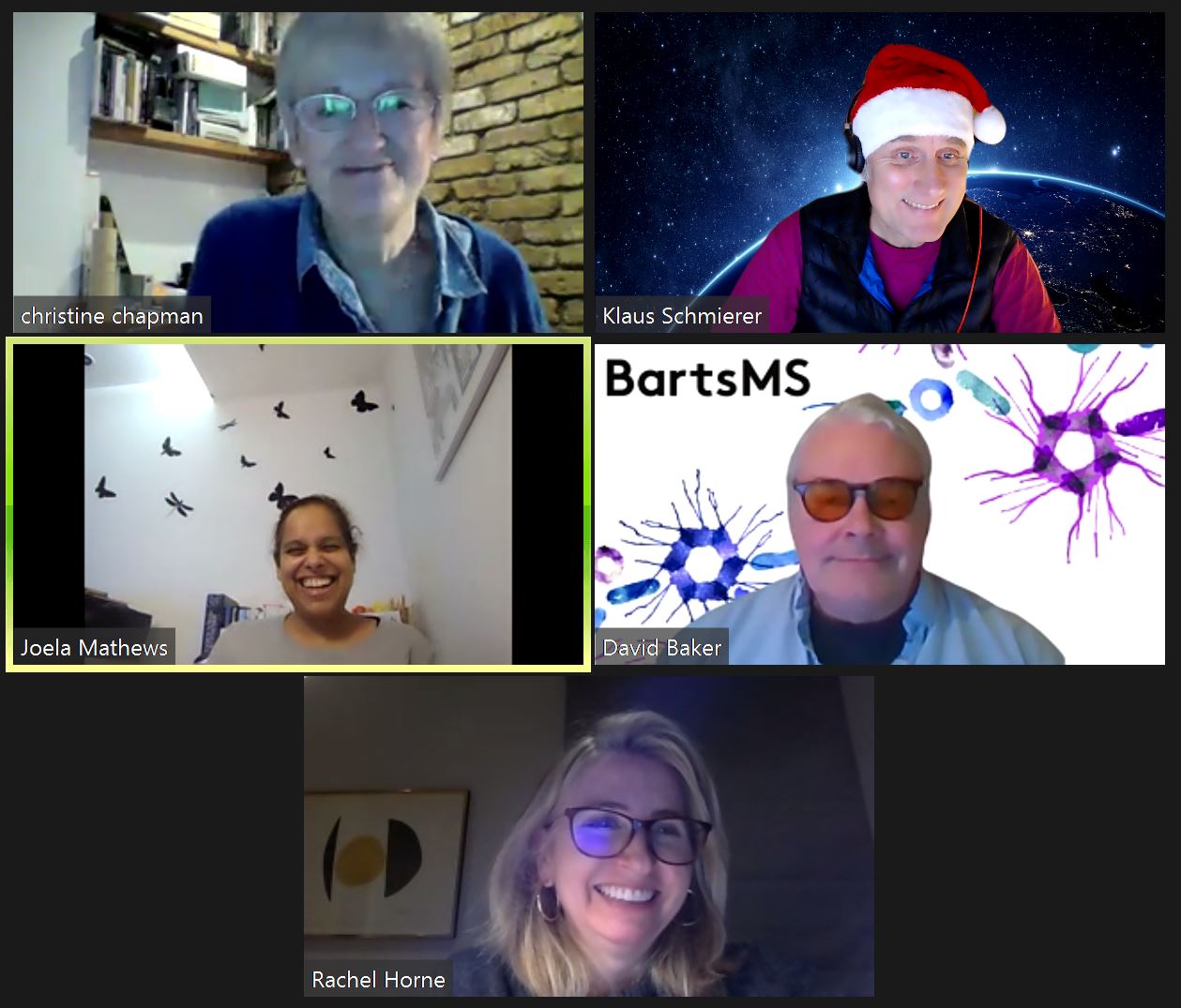 Have a Happy Holiday from the Guys and Gals at BartsMS