The characteristic feature of is multi-focal inflammatory activity; an infiltration of immune cells leading to loss of myelin and axons within these areas creating the appearance of round lesions.
The natural evolution of these lesions like any area of injury in the rest of the body and shrink to a certain degree overtime. A fraction, however, continue to smoulder. These so-called smouldering lesions have been linked to disease progression in MS and have attracted extensive interest from the MRI bods to discover what they mean.
At the microscopic level, these lesions contain an iron-based rim of immune cells called microglia and macrophages that can imaged (see figure below). They are found in 50-66% of MS lesions and in RRMS and progressive MS.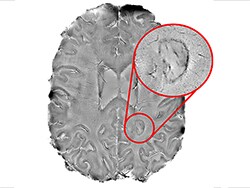 In a follow up study spanning 7 years, a group in Austria studied the evolution of these iron rims. They found that they were most prominent in the RRMS phase but persisted into the progressive phase. Initially, the iron builds up diffusely throughout the lesions, and then overtime are only retained in the macrophages and microglia at the chronic active lesion edges.
These rims have the potential to increase the size of the MS lesion; within their first year they grow slowly, at times fusing with nearby lesions becoming larger. This is opposite to that of non-iron rimmed lesions that generally shrink with time. Overall, however, you'd be glad to heat that the expansion of the iron-rimmed lesions is limited and do not continue to involve the whole brain. The largest one observed in this study measured at 36.5mm in diameter at the end of 7 years.
There is also waning of the iron rims themselves, with the maximum intensity visualized as soon as it was morphologically fully developed, suggesting that they become inactive overtime. But, as they are more destructive (see Figure 2A above) there may be merit in monitoring these closely outside of research settings. The sequences for this type of imaging don't necessarily require a 7T MRI scanner and acquisitions can be made on lower intensity machines.
Abstract
Brain. 2021 Jan 23;awaa436. doi: 10.1093/brain/awaa436. Online ahead of print.
Long-term evolution of multiple sclerosis iron rim lesions in 7 T MRI
Assunta Dal-Bianco , Günther Grabner , Claudia Kronnerwetter, Michael Weber, Barbara Kornek, Gregor Kasprian , Thomas Berger , Fritz Leutmezer , Paulus Stefan Rommer , Siegfried Trattnig , Hans Lassmann , Simon Hametner
Recent data suggest that multiple sclerosis white matter lesions surrounded by a rim of iron containing microglia, termed iron rim lesions, signify patients with more severe disease course and a propensity to develop progressive multiple sclerosis. So far, however, little is known regarding the dynamics of iron rim lesions over long-time follow-up. In a prospective longitudinal cohort study in 33 patients (17 females; 30 relapsing-remitting, three secondary progressive multiple sclerosis; median age 36.6 years (18.6-62.6), we characterized the evolution of iron rim lesions by MRI at 7 T with annual scanning. The longest follow-up was 7 years in a subgroup of eight patients. Median and mean observation period were 1 (0-7) and 2.9 (±2.6) years, respectively. Images were acquired using a fluid-attenuated inversion recovery sequence fused with iron-sensitive MRI phase data, termed FLAIR-SWI, as well as a magnetization prepared two rapid acquisition gradient echoes, termed MP2RAGE. Volumes and T1 relaxation times of lesions with and without iron rims were assessed by manual segmentation. The pathological substrates of periplaque signal changes outside the iron rims were corroborated by targeted histological analysis on 17 post-mortem cases (10 females; two relapsing-remitting, 13 secondary progressive and two primary progressive multiple sclerosis; median age 66 years (34-88), four of them with available post-mortem 7 T MRI data. We observed 16 nascent iron rim lesions, which mainly formed in relapsing-remitting multiple sclerosis. Iron rim lesion fraction was significantly higher in relapsing-remitting than progressive disease (17.8 versus 7.2%; P < 0.001). In secondary progressive multiple sclerosis only, iron rim lesions showed significantly different volume dynamics (P < 0.034) compared with non-rim lesions, which significantly shrank with time in both relapsing-remitting (P < 0.001) and secondary progressive multiple sclerosis (P < 0.004). The iron rims themselves gradually diminished with time (P < 0.008). Compared with relapsing-remitting multiple sclerosis, iron rim lesions in secondary progressive multiple sclerosis were significantly more destructive than non-iron rim lesions (P < 0.001), reflected by prolonged lesional T1 relaxation times and by progressively increasing changes ascribed to secondary axonal degeneration in the periplaque white matter. Our study for the first time shows that chronic active lesions in multiple sclerosis patients evolve over many years after their initial formation. The dynamics of iron rim lesions thus provide one explanation for progressive brain damage and disability accrual in patients. Their systematic recording might become useful as a tool for predicting disease progression and monitoring treatment in progressive multiple sclerosis.