You may have heard that ProfG was not happy to have too much COVID news, as it was frightening you off. So I have decided to do MDs Saturday COVID Lunch. However, safe to say I will not be doing this on video to MD2 playing Rock Tunes and me dancing in a top that is a bit too tight for comfort….Don't understand search Toyah's (Wilcox) and Roberts (Fripp) Sunday Lockdown lunch….Yep the Brits are Barking. P.S. Only watch after the water shed 🙂
What happens to the COVID-19 vaccine in immunosupressed people. We are waiting for the data to surface from MS and it won't be long, but it may be blunted. In this study they couldnt wait to get the second dose to copare it to healthy controls they looked at transplant recipients (n=436) who are taking continual immunosupression and the seroconversion rate after the RNA vaccines was 17%. This is similar to the BBC preprint service earlier in the week from Kings London in another cancer cohort. However they showed that if you got the second jab there was more seroconversion. Cladribine is a similar type of drug but it is not given contiuously. My prediction is brighter than this. Study but it makes you concered for ocrelizumab as this is continually delivered.
Immunogenicity of a Single Dose of SARS-CoV-2 Messenger RNA Vaccine in Solid Organ Transplant Recipients Boyarsky et al. JAMA. Published online March 15, 2021. doi:10.1001/jama.2021.4385/
Immunocompromised individuals have been excluded from studies of SARS-CoV-2 messenger RNA (mRNA) vaccines. In such patients, the immune response to vaccination may be blunted. To better understand the immunogenicity of mRNA vaccines in immunocompromised individuals, we quantified the humoral response to the first dose in solid organ transplant recipients. There were 436 transplant recipients included in the study. None had a prior polymerase chain reaction–confirmed diagnosis of COVID-19. 52% received the BNT162b2 vaccine (Pfizer-BioNTech) and 48% received the mRNA-1273 vaccine (Moderna). The median time since transplant was 6.2 years (IQR, 2.7-12.7 years). The maintenance immunosuppression regimen included tacrolimus (83%), corticosteroids (54%), mycophenolate (66%), azathioprine (9%), sirolimus (4%), and everolimus (2%). At a median of 20 days (IQR, 17-24 days) after the first dose of vaccine, antibody (anti-S1 or anti–receptor-binding domain) was detectable in 76 of 436 participants (17%; 95% CI, 14%-21%). So in about two weeks we will get round two.
This week we have been worried about clots……Me too…these are the stupid people that seem to be running our countires. This tweet says it about as good as I can.
For people on fingolimod and natalizumab some re-assuring comments
Mallucci G, Zito A, Baldanti F, Gastaldi M, Fabbro BD, Franciotta D, Bergamaschi R. Safety of disease-modifying treatments in SARS-CoV-2 antibody-positive multiple sclerosis patients. Mult Scler Relat Disord. 2021 Jan 13;49:102754. doi: 10.1016/j.msard.2021.102754.
Background: Coronavirus disease 2019 (COVID-19) raises particular concerns for people with multiple sclerosis (PwMS) on disease-modifying treatments (DMTs), and for physicians caring for them. The impact of severe acute respiratory syndrome coronavirus 2 (SARS-CoV-2) infection on PwMS receiving DMTs that inhibit immune cell trafficking, such as natalizumab (NTZ) and fingolimod (FTY), remains to be determined, as do the possible effects of these drugs on both the infection and the related disease.
Aims: To describe self-reported COVID-19 symptoms and disease severity in PwMS on NTZ or FTY who received serology confirmation of SARS-CoV-2 infection.
Methods: From 27th April to 3rd May 2020, telephone interviews were conducted with 140 PwMS under treatment with NTZ or FTY in order to collect structured data on multiple sclerosis (MS) and COVID-19. The patients, all followed at our center, were classified as symptomatic, paucisymptomatic or asymptomatic on the basis of their self-reported clinical characteristics. COVID-19 severity was rated on a 7-point ordinal scale. In addition, in the period 4th May to 3rd June 2020 SARS-CoV-2 serology testing, using the Roche SARS-CoV-2 IgG assay (ElecsysⓇ), was performed in 104/140 (74.2%) of the interviewed PwMS (50 treated with NTZ and 54 with FTY).
Results: 14/104 (13.4%) PwMS on NTZ or FTY had anti-SARS-CoV-2 antibodies: 8 met the criteria for asymptomatic, 3 for paucisymptomatic and 3 for symptomatic COVID-19 (COVID-19 severity score lower than 3). None of them required hospitalization or showed severe COVID-19 complications.
Conclusions: Despite the relatively high SARS CoV-2 seroprevalence found in this sample of PwMS, all the positive cases showed either no or only mild COVID-19 symptoms. These reassuring findings indicate a lack of COVID-19 complications in PwMS on DMTs and support the hypothesis that it is safe to maintain ongoing treatment with these drugs in the current setting.
If interested here is a time line of achievements over the past 12 months
The first 12 months of COVID-19: a timeline of immunological insights. Carvalho et al. NAture Reviews Immunology (2021) Since the initial reports of a cluster of pneumonia cases of unidentified origin in Wuhan, China, in December 2019, the novel coronavirus that causes this disease – severe acute respiratory syndrome coronavirus 2 (SARS-CoV-2) – has spread throughout the world, igniting the twenty-first century's deadliest pandemic. Over the past 12 months, a dizzying array of information has emerged from numerous laboratories, covering everything from the putative origin of SARS-CoV-2 to the development of numerous candidate vaccines. Many immunologists quickly pivoted from their existing research to focus on coronavirus disease 2019 (COVID-19) and, owing to this unprecedented convergence of efforts on one viral infection, a remarkable body of work has been produced and disseminated, through both preprint servers and peer-reviewed journals. Here, we take readers through the timeline of key discoveries during the first year of the pandemic, which showcases the extraordinary leaps in our understanding of the immune response to SARS-CoV-2 and highlights gaps in our knowledge as well as areas for future investigations.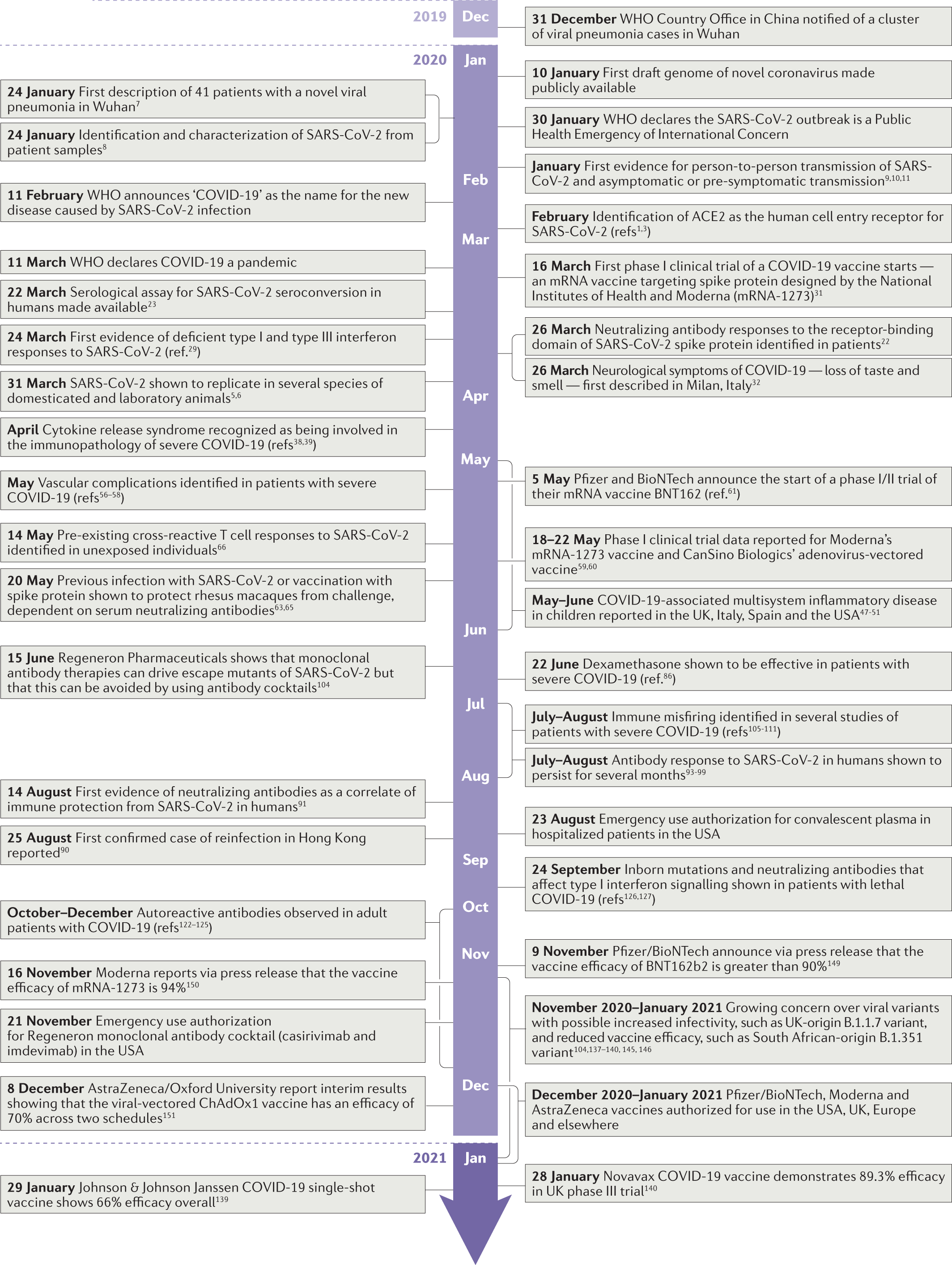 Some people ask how some neuros think about COVID-19
Dziedzic A, Saluk-Bijak J, Miller E, Niemcewicz M, Bijak M. The Impact of SARS-CoV-2 Infection on the Development of Neurodegeneration in Multiple Sclerosis. Int J Mol Sci. 2021 Feb 11;22(4):1804. doi: 10.3390/ijms22041804.
The novel coronavirus disease 2019 (COVID-19) pandemic, caused by severe acute respiratory syndrome coronavirus 2 (SARS-CoV-2), remains a global challenge. Currently, there is some information on the consequences of COVID-19 infection in multiple sclerosis (MS) patients, as it is a newly discovered coronavirus, but its far-reaching effects on participation in neurodegenerative diseases seem to be significant. Recent cases reports showed that SARS-CoV-2 may be responsible for initiating the demyelination process in people who previously had no symptoms associated with any nervous system disorders. It is presently known that infection of SARS-CoV-2 evokes cytokine storm syndrome, which may be one of the factors leading to the acute cerebrovascular disease. One of the substantial problems is the coexistence of cerebrovascular disease and MS in an individual's life span. Epidemiological studies showed an enhanced risk of death rate from vascular disabilities in MS patients of approximately 30%. It has been demonstrated that patients with severe SARS-CoV-2 infection usually show increased levels of D-dimer, fibrinogen, C-reactive protein (CRP), and overactivation of blood platelets, which are essential elements of prothrombotic events.
Outcomes and Risk Factors Associated With SARS-CoV-2 Infection in a North American Registry of Patients With Multiple Sclerosis Amber Salter, PhD; Robert J. Fox, MD; Scott D. Newsome, DO; June Halper, MSCN; David K. B. Li, MD;
Pamela Kanellis, PhD; Kathleen Costello, MSCN; Bruce Bebo, PhD; Kottil Rammohan, MD;
Gary R. Cutter, PhD; Anne H. Cross, MD. https://jamanetwork.com/journals/jama/fullarticle/10.1001/jamaneurol.2021.0688
The data has surfaced again as the data was part of the MS COVID consortia of registries and now the USA data surfaces
Question How do patients with multiple sclerosis (MS) who have COVID-19 fare and are there patient and disease characteristics associated with worse outcome?
Findings In this registry-based cross-sectional study of 1626 North American patients with MS and COVID-19 infection, ambulatory disability, both nonambulatory and requiring assistance to walk, was independently associated with increased odds of poor clinical severity levels after adjusting for other risk factors. Other factors including older age, male sex, Black race, cardiovascular comorbidities, and corticosteroid use in the past 2 months were associated with increased odds of increasing clinical severity compared with those not requiring hospitalization or worse.
Meaning Identification of risk factors can improve the treatment of patients with MS and COVID-19 by alerting clinicians of patients requiring more intense treatment or monitoring.Abstract
Importance Emergence of SARS-CoV-2 causing COVID-19 prompted the need to gather information on clinical outcomes and risk factors associated with morbidity and mortality in patients with multiple sclerosis (MS) and concomitant SARS-CoV-2 infections.
Objective To examine outcomes and risk factors associated with COVID-19 clinical severity in a large, diverse cohort of North American patients with MS.
Design, Setting, and Participants This analysis used deidentified, cross-sectional data on patients with MS and SARS-CoV-2 infection reported by health care professionals in North American academic and community practices between April 1, 2020, and December 12, 2020, in the COVID-19 Infections in MS Registry. Health care professionals were asked to report patients after a minimum of 7 days from initial symptom onset and after sufficient time had passed to observe the COVID-19 disease course through resolution of acute illness or death. Data collection began April 1, 2020, and is ongoing.
Exposures Laboratory-positive SARS-CoV-2 infection or highly suspected COVID-19.
Main Outcomes and Measures Clinical outcome with 4 levels of increasing severity: not hospitalized, hospitalization only, admission to the intensive care unit and/or required ventilator support, and death.
Results Of 1626 patients, most had laboratory-positive SARS-CoV-2 infection (1345 [82.7%]), were female (1202 [74.0%]), and had relapsing-remitting MS (1255 [80.4%]). A total of 996 patients (61.5%) were non-Hispanic White, 337 (20.8%) were Black, and 190 (11.7%) were Hispanic/Latinx. The mean (SD) age was 47.7 (13.2) years, and 797 (49.5%) had 1 or more comorbidity. The overall mortality rate was 3.3% (95% CI, 2.5%-4.3%). Ambulatory disability and older age were each independently associated with increased odds of all clinical severity levels compared with those not hospitalized after adjusting for other risk factors (nonambulatory: hospitalization only, odds ratio [OR], 2.8 [95% CI, 1.6-4.8]; intensive care unit/required ventilator support, OR, 3.5 [95% CI, 1.6-7.8]; death, OR, 25.4 [95% CI, 9.3-69.1]; age [every 10 years]: hospitalization only, OR, 1.3 [95% CI, 1.1-1.6]; intensive care unit/required ventilator support, OR, 1.3 [95% CI, 0.99-1.7]; death, OR, 1.8 [95% CI, 1.2-2.6]).
Conclusions and Relevance  In this registry-based cross-sectional study, increased disability was independently associated with worse clinical severity including death from COVID-19. Other risk factors for worse outcomes included older age, Black race, cardiovascular comorbidities, and recent treatment with corticosteroids. Knowledge of these risk factors may improve the treatment of patients with MS and COVID-19 by helping clinicians identify patients requiring more intense monitoring or COVID-19 treatment.
Reder AT, Centonze D, Naylor ML, Nagpal A, Rajbhandari R, Altincatal A, Kim M, Berdofe A, Radhakrishnan M, Jung E, Sandrock AW, Smirnakis K, Popescu C, de Moor C. COVID-19 in Patients with Multiple Sclerosis: Associations with Disease-Modifying Therapies. CNS Drugs. 2021 Mar 20. doi: 10.1007/s40263-021-00804-1.
Background: Disease-modifying therapies (DMTs) for multiple sclerosis (MS) target immunity and have the potential to increase the risk of severe acute respiratory syndrome coronavirus-2 (SARS-CoV-2) infection and alter its clinical course. We assessed these risks in patients with MS (PwMS).
Objective: The objective of this study was to describe the overall risk of coronavirus disease 2019 (COVID-19) infection, severe disease course, and potential population-level predictors of COVID-19 infection in PwMS, and to provide a context using a cohort of patients with systemic lupus erythematosus (SLE). In addition, the association of different MS DMTs with the incidence and clinical course of COVID-19 was evaluated. Safety data from the Biogen Global Safety Database are also presented on reported cases of COVID-19 in patients treated with Biogen MS therapies.
Methods: The IBM® Explorys electronic health record database of > 72,000,000 patients from US healthcare networks identified patients with MS or SLE, with and without polymerase chain reaction-confirmed COVID-19. COVID-19 cumulative incidence, hospitalization, and deaths among DMT classes were compared using logistic regression (adjusted for age, sex, body mass index, comorbidities, and race/ethnicity). As a secondary data source to assess safety data, COVID-19 reports for Biogen MS therapies were extracted and described from Biogen's Global Safety Database.
Results: 30,478 PwMS with an open DMT prescription were identified within Explorys; 344 were COVID-19 positive. The most significant risk factors for acquiring COVID-19 were comorbidity score ≥ 1, body mass index ≥ 30, and Black/African ancestry. Similar risk factors were also identified for patients with SLE. Patients with MS were less likely to develop COVID-19 when treated with interferons (0.61%) and glatiramer acetate (0.51%), vs all other MS DMTs (both p < 0.001); anti-CD20 therapy was associated with the highest risk (3.45%; p < 0.0001). In the Biogen Global Safety Database, we identified 1217 patients who were COVID-19 positive treated with intramuscular interferon beta-1a, peginterferon beta-1a, natalizumab, dimethyl fumarate, diroximel fumarate, or fampridine.
Conclusions: Comorbidities, obesity, and Black/African ancestry, but not age, were associated with a higher risk of SARS-CoV-2 infection in PwMS. Interferons and glatiramer acetate were associated with a reduced COVID-19 risk, whereas anti-CD20 therapies were associated with an increased risk, within the treated MS cohort. COVID-19 safety reports for patients receiving Biogen MS therapies were consistent with the Explorys database and MS literature, illustrating the replicability and power of this approach.