This is a review that is open access for you to read.. I feel abit airbrushed but hey
DiSano KD, Gilli F, Pachner AR. Memory B Cells in Multiple Sclerosis: Emerging Players in Disease Pathogenesis. Front Immunol. 2021 Jun 8;12:676686. doi: 10.3389/fimmu.2021.676686.
Multiple Sclerosis (MS) is an inflammatory demyelinating disease of the central nervous system. Once thought to be primarily driven by T cells, B cells are emerging as central players in MS immunopathogenesis. Interest in multiple B cell phenotypes in MS expanded following the efficacy of B cell-depleting agents targeting CD20 in relapsing-remitting MS and inflammatory primary progressive MS patients. Interestingly, these therapies primarily target non-antibody secreting cells. Emerging studies seek to explore B cell functions beyond antibody-mediated roles, including cytokine production, antigen presentation, and ectopic follicle-like aggregate formation. Importantly, memory B cells (Bmem) are rising as a key B cell phenotype to investigate in MS due to their antigen-experience, increased lifespan, and rapid response to stimulation. Bmem display diverse effector functions including cytokine production, antigen presentation, and serving as antigen-experienced precursors to antibody-secreting cells. In this review, we explore the cellular and molecular processes involved in Bmem development, Bmem phenotypes, and effector functions. We then examine how these concepts may be applied to the potential role(s) of Bmem in MS pathogenesis. We investigate Bmem both within the periphery and inside the CNS compartment, focusing on Bmem phenotypes and proposed functions in MS and its animal models. Finally, we review how current immunomodulatory therapies, including B cell-directed therapies and other immunomodulatory therapies, modify Bmem and how this knowledge may be harnessed to direct therapeutic strategies in MS.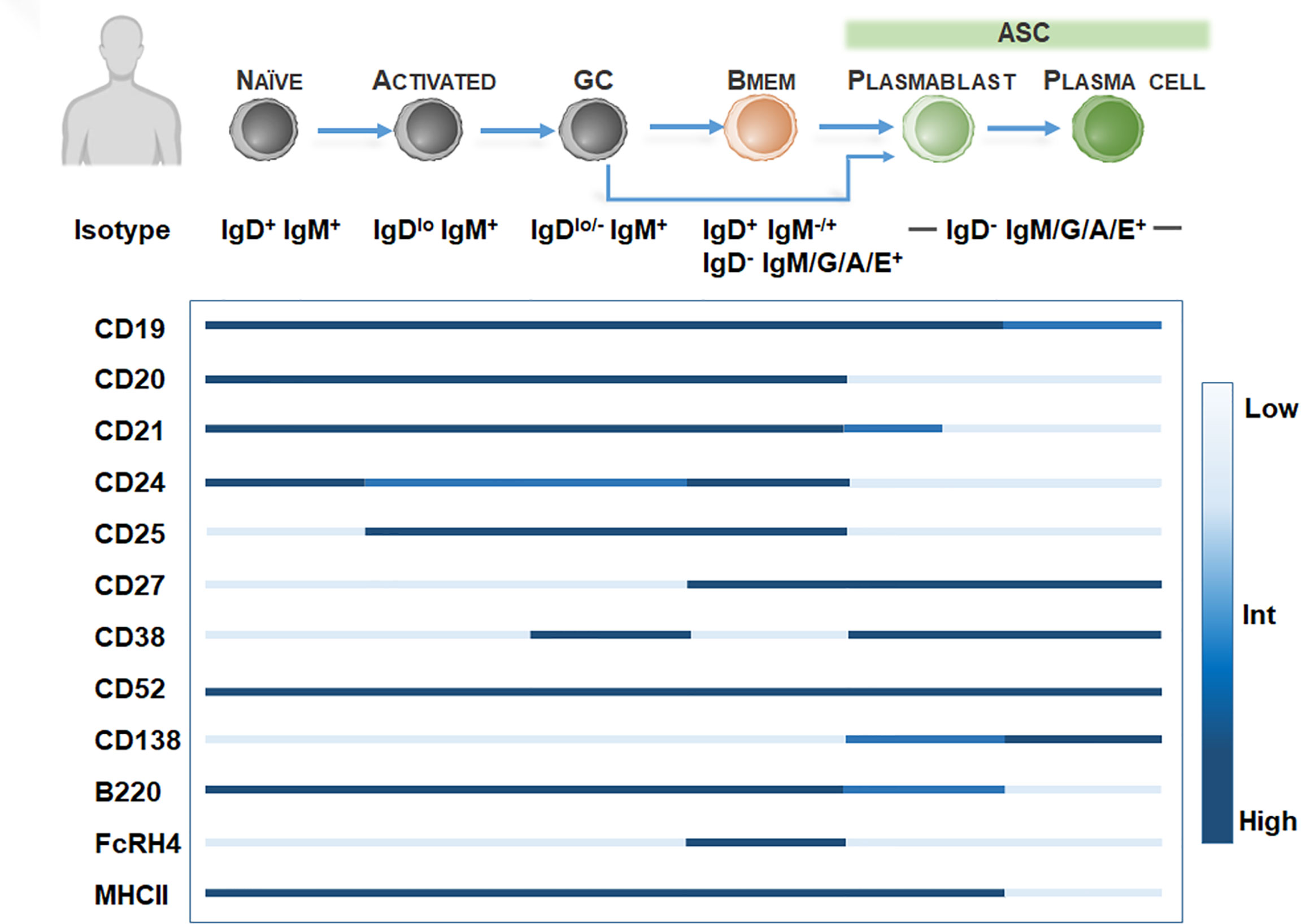 Not one menion of EBV so have they really got the big picture. FcrH4 is a subset of memory B cells. As for CD52 it has it expressed all along the B cell lineage, but there is less on plasma cells (ASC antibody secreting cells). This is a good thing as you could lose your past immunity. Highly relevant in COVID-19 era. The graph below is message not protein.
So PPMS is not left out here is a reviiew for you

The Role of B Cells in Primary Progressive Multiple Sclerosis.Holloman JP, Axtell RC, Monson NL, Wu GF.Front Neurol. 2021 Jun 7;12:680581. doi: 10.3389/fneur.2021.680581. eCollection 2021.
The success of ocrelizumab in reducing confirmed disability accumulation in primary progressive multiple sclerosis (PPMS) via CD20-targeted depletion implicates B cells as causal agents in the pathogenesis of PPMS. This review explores the possible mechanisms by which B cells contribute to disease progression in PPMS, specifically exploring cytokine production, antigen presentation, and antibody synthesis. B cells may contribute to disease progression in PPMS through cytokine production, specifically GM-CSF and IL-6, which can drive naïve T-cell differentiation into pro-inflammatory Th1/Th17 cells. B cell production of the cytokine LT-α may induce follicular dendritic cell production of CXCL13 and lead indirectly to T and B cell infiltration into the CNS. In contrast, production of IL-10 by B cells likely induces an anti-inflammatory effect that may play a role in reducing neuroinflammation in PPMS. Therefore, reduced production of IL-10 may contribute to disease worsening. B cells are also capable of potent antigen presentation and may induce pro-inflammatory T-cell differentiation via cognate interactions. B cells may also contribute to disease activity via antibody synthesis, although it's unlikely the benefit of ocrelizumab in PPMS occurs via antibody decrement. Finally, various B cell subsets likely promulgate pro- or anti-inflammatory effects in MS.
So no mention of smouldering lesions and here lies the problem. Read it an it seems like the same biology as relapsing MS. If true its the same treatment…OK you may want it in the CNS. I would argue you need to do something different.