If you have been reading the Blog you are essentially getting a micro-opinion from ProG or sometimes maybe me. What do others think…I may ask sometimes do others think:-), but there are other opinions and so I give you another one. I am not going to make any comment.
If you are interested you can read and then say what you think or ask a question. Enjoy
Woopen C, Schleußner K, Akgün K, Ziemssen T. Approach to SARS-CoV-2 Vaccination in Patients With Multiple Sclerosis. Front Immunol. 2021 Jun 21;12:701752. doi: 10.3389/fimmu.2021.701752.
For more than a year now, severe acute respiratory syndrome coronavirus 2 (SARS-CoV-2) has been causing the coronavirus disease (COVID-19) pandemic with high mortality and detrimental effects on society, economy, and individual lives. Great hopes are being placed on vaccination as one of the most potent escape strategies from the pandemic and multiple vaccines are already in clinical use. However, there is still a lot of insecurity about the safety and efficacy of vaccines in patients with autoimmune diseases like multiple sclerosis (MS), especially under treatment with immunomodulatory or immunosuppressive drugs. We propose strategic approaches to SARS-CoV-2 vaccination management in MS patients and encourage fellow physicians to measure the immune response in their patients. Notably, both humoral and cellular responses should be considered since the immunological equivalent for protection from SARS-CoV-2 after infection or vaccination still remains undefined and will most likely involve antiviral cellular immunity. It is important to gain insights into the vaccine response of immunocompromised patients in order to be able to deduce sensible strategies for vaccination in the future.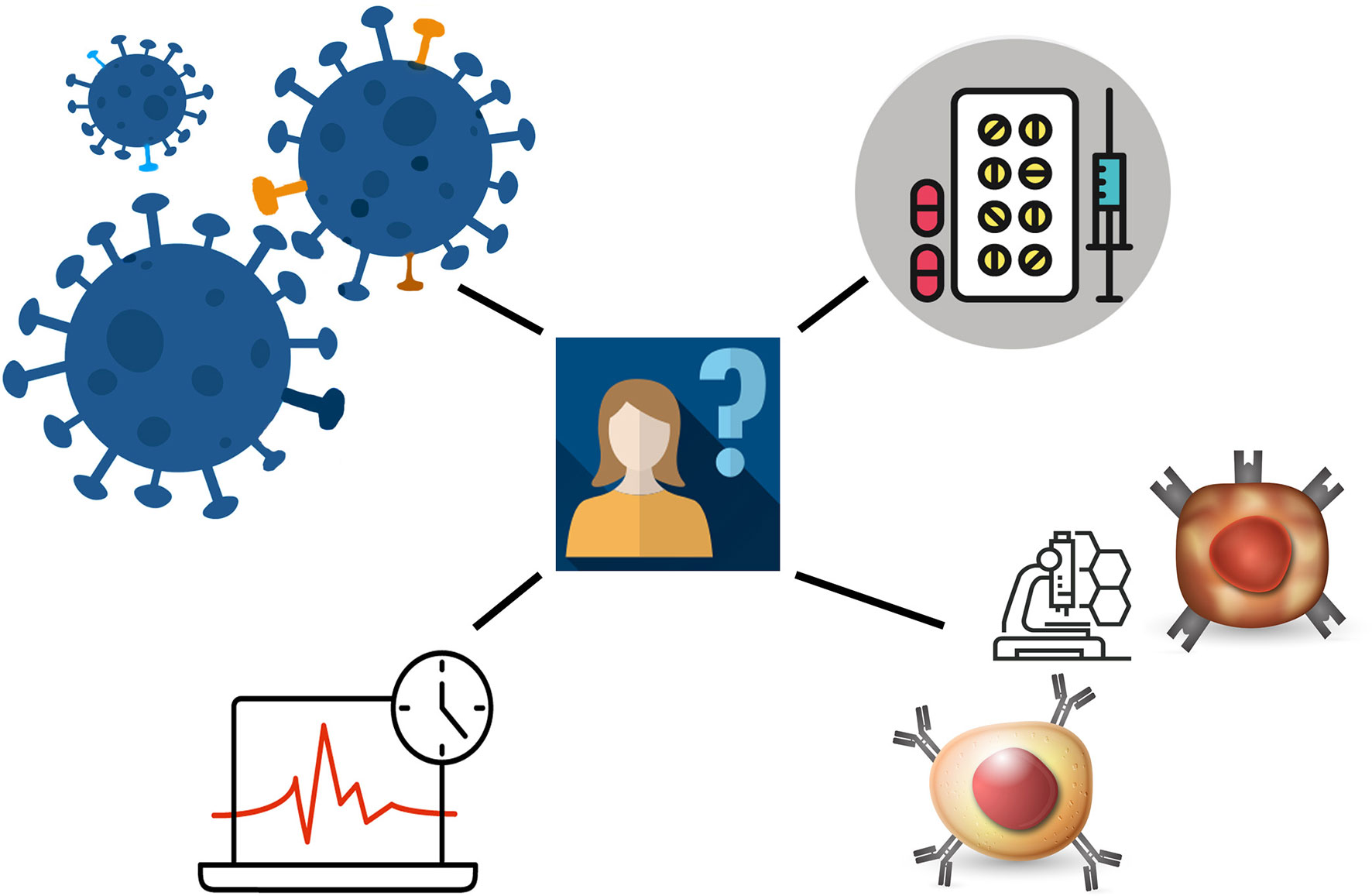 Non-Live Vaccines Are Safe in MS Patients With and Without DMT
Vaccination Is Protective, yet Partly Less Effective Under Certain DMT
The Necessity of Measuring Virus-Specific Immune Responses in MS Patients After SARS-CoV-2 Vaccination
Protective Immune Response Against SARS-CoV-2
Measuring Humoral and Cellular Responses to Vaccination
Conclusions. MS patients should be vaccinated against SARS-CoV-2 as soon as possible in order to reduce their infection and associated relapse risk. Extrapolating from other studies with non-live vaccines, application of currently authorized SARS-CoV-2 vaccines is expected to be safe in patients with MS. However, vaccination may induce an attenuated immune response in patients under certain DMT and evidence on sensible time points for vaccination, especially in B cell-depleting therapy, is currently lacking. Therefore, we propose to closely survey MS patients after vaccination and to measure their humoral and cellular responses to SARS-CoV-2 vaccination.
 We participate in prospective, multicenter, open-label, low-intervention phase IV clinical trials evaluating the use of SARS-CoV-2 mRNA vaccines in MS patients treated with siponimod or ofatumumab (NCT04792567 and EUDRACT 2021-000307-20, respectively).
Disclaimer: Please note that the opinions expressed here are those of the author and do not reflect the positions of the Barts and The London School of Medicine and Dentistry nor Barts Health NHS Trust or Queen Mary Univeristy of London.