This informaton is online but DrRuth is on Holidays and so she said it was OK if I gave you my biased view of the data. This follows the vaccine response of nearly 500 people with MS .
Emma C Tallantyre, Nicola Vickaryous, Valerie Anderson, Aliye Nazli Asardag, David Baker, Jonathan Bestwick, Kath Bramhall, Randy Chance, Nikos Evangelou, Katila George, Gavin Giovannoni, Leanne Grant, Katharine E Harding, Aimee Hibbert, Gillian Ingram, Meleri Jones, Angray S Kang, Samantha Loveless, Stuart J Moat, Neil P Robertson, Klaus Schmierer, Sita Navin Shah, Jessica Simmons, Matthew Upcott, Mark Willis, Stephen Jolles, Ruth Dobson. COVID-19 vaccine response in people with multiple sclerosis. doi: https://doi.org/10.1101/2021.07.31.21261326
So if you have not had the jab yet…ask why not?
But maybe you can learn from the messages
ProfK tweeted " If your violin looks like a cello sitting plump on the floor, you may have to face the music"
What does this mean?
No…. he has passed his drugs test and this not some rambling of a mad person. It is not some form of German Slang made up by ProfK to confuse us. Furthermore…yes it has nothing to do with ProfKs love of Wagner and DrRuths instrument of choice.
We all like a bit of cello music! Don't we?
If you don't……Listen to some Swedish Cellists…. I bet Jacqueline du Pré would have approved:-)
However on the vaccine front……You dont want the cello!
This is what ProfK tweeted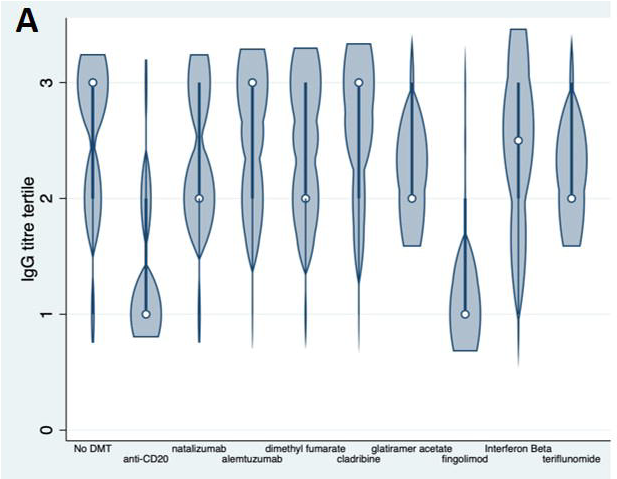 Its called a violin plot.
You can see there are two cellos….Anti-CD20 and fingolimod.
I think they look more like Lutes and says….you have paid your loot to get a vaccination turkey:-(This is because it says fingolimod and anti-CD20 blocks the generation of a vaccine antibody response.
I would rather you have reasonable sized hips, well proportioned thighs and slender calves and feet…..Why?
Because it means you have made a good vaccine response.
The 1 to 3 means the level of antibody response after vaccine. 1 = poor and 3 = good. The wider the vaccine plot the more people have achieved the response. So having big hips is an advantage here. As you can see alemtuzumab DMF and cladribine have a much better figure:-)
It says that if you took ocrelizumab/rituximab/ofatumumab (most data based on ocrelizumab) you don't make a good antibody response after vaccination and this is also the case for fingolimod.
This is sad news if you are on these treatments, but it is explanable.
Already we know that people taking ocrelizumab are likely to make a potentially protective T cell response, based on other peoples work.
Of the 58 vaccine naïve baseline samples, 6 (10.3%) were seropositive and 52 (89.7%) seronegative
for SARS-CoV2 so most people were being careful to not get infected.
For the other DMT most people seroconverted to become positive.
However the data said that people using astrazeneca vaccine had fat calf's
So it indicates that the AZ induces lower levels of antibodies than the RNA vaccines like pfizer. To me….. if Boosters are going to happen then is says something. If you took ocrelizumab and fingolimod it does not seem to matter what vaccine you got they were both pretty bad, in terms of generating an antibody response
Can we optimize the vaccine response in the people making a poor vaccine antibody response? The data/paper says no. But I dont believe this….but it is not going to be straight forward. However, the question we have to ask is, is this worth it? ProfK says "you may have to face the music" and accept this potential problem.
Tallantyre et al. COVID-19 vaccine response in people with multiple sclerosi .doi: https://doi.org/10.1101/2021.07.31.21261326
Objective To investigate the effect of disease modifying therapies on serological response to SARS-CoV2 vaccines in people with multiple sclerosis
Methods 473 people with multiple sclerosis from 5 centres provided one or more dried blood spot samples and questionnaires about COVID-19. Information about disease and drug history was extracted from their medical records. Dried blood spots were eluted and tested for antibodies to SARS-CoV2 receptor binding domain. Seropositivity was expressed according to validated cut-off indices. Antibody titers were partitioned into tertiles using data from people on no disease modifying therapy as a reference. We calculated the odds ratio of seroconversion (Univariate logistic regression) and compared quantitative vaccine response (Kruskal Wallis) following SARS-CoV2 vaccine according to disease modifying therapy. We used regression modelling to explore the effect of factors including vaccine timing, treatment duration, age, vaccine type and lymphocyte count on vaccine response.
Results Compared to no disease modifying therapy, the use of anti-CD20 monoclonal antibodies (odds ratio 0.03; 95% confidence interval 0.01-0.06, p<0.001) and fingolimod (odds ratio 0.41; 95% confidence interval 0.01-0.12) were associated with lower seroconversion following SARS-CoV2 vaccine. All other drug groups did not differ significantly from the untreated cohort. Time since last anti-CD20 treatment and total time on treatment were significantly related with response to vaccination. Vaccine type significantly predicted seroconversion, but not in those on anti-CD20 medications.
Interpretation Some disease modifying therapies carry a risk of attenuated response to SARS-CoV2 vaccination in people with MS. We provide recommendations for the practical management of this patient group.
General Disclaimer: Please note that the opinions expressed here are those of the author and do not necessarily reflect the positions of the Barts and The London School of Medicine and Dentistry nor Barts Health NHS Trust and are not meant to be interpreted as personal clinical advice.