I was recently in Vienna hearing about a relatively new biomarker, the kappa (k)-free light chains and their value in the diagnosis of MS. To date, biologically the oligoclonal bands in the cerebrospinal fluid (CSF) remain the gold standard for diagnosing MS. Oligoclonal bands in the CSF (also termed intrathecal restriction) represent the production of antibodies in the CNS that is unique to inflammatory processes affecting the neuraxis.
Antibodies are comprised of 2 heavy chains and 2 light chains (kappa/lambda), see figure below. Of late, the free light chains have gained interest because they are produced in excess of the intact antibody and therefore may be more sensitive as a marker of intrathecal antibody synthesis. This increased sensitivity may allow even for an earlier diagnosis of MS.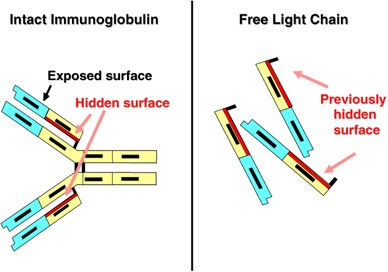 This year at ECTRIMS 2021 Dr Hegen's team from Innsbruck University takes this a step further and suggests that k-FLC may even predict early disease activity in MS. Following patients who had an initial lumbar puncture for 4 years, they found that those who had a k-FLC index >100 at baseline were twice as likely to have a second attack in 12 months compared to those with a low index. This increased to 4 times as likely over the 24 month period, supporting the importance of antibody synthesis in the CNS space for disease activity in MS.
ABSTRACT
P567 – Kappa free light chains in cerebrospinal fluid predict early multiple sclerosis disease activity
H. Hegen1, K. Berek1, G. Bsteh2, M. Auer1, F. Di Pauli1, A. Grams3, D. Milosavljevic4, P. Poskaite3, C. Schnabl4, S. Wurth5, A. Zinganell1, T. Berger2, J. Walde6, F. Deisenhammer1
1Medical University of Innsbruck, Neurology, Innsbruck, Austria, 2Medical University of Vienna, Neurology, Vienna, Austria, 3Medical University of Innsbruck, Neuroradiology, Innsbruck, Austria, 4University of Applied Sciences, FH Campus Wien, Vienna, Austria, 5Medical University of Graz, Neurology, Graz, Austria, 6University of Innsbruck, Statistics, Innsbruck, Austria
Introduction: The inter-individual courses of relapsing multiple sclerosis (MS) are extremely variable and disease-modifying therapies (DMT) differ regarding efficacy and risk profile. Since criteria guiding decisions when to start treatment in early MS and in case, whether choosing a moderately or highly efficacious DMT, are still controversially debated, there is an urgent need of biomarkers to predict disease activity.
Objectives: To investigate whether k-free light chain (k-FLC) index predicts MS disease activity independent of demographics, clinical characteristics, and MRI findings.
Methods: Patients with early MS who had cerebrospinal fluid (CSF) and serum sampling at disease onset were followed for four years. At baseline, age, sex, type of symptoms, corticosteroid treatment, number of T2-hyperintense (T2L), and contrast-enhancing T1 lesions (CEL) on MRI were determined. During follow-up, the occurrence of a second clinical attack and start of DMT were registered. k-FLC were measured by nephelometry, and k-FLC index calculated as [CSF k-FLC/ serum k-FLC]/ albumin quotient.
Results: A total of 88 patients at a mean age of 33±10 years and female predominance of 68% were included; 38 (43%) patients experienced a second clinical attack during follow-up. In multivariate Cox regression analysis adjusting for age, sex, T2L, CEL, disease and follow-up duration, administration of corticosteroids at baseline and DMT during follow-up revealed that k-FLC index predicts time to second clinical attack. Patients with k-FLC index >100 (median value 147) at baseline had a twice as high probability for a second clinical attack within 12 months than patients with low k-FLC index (median 28); within 24 months the chance in patients with high k-FLC index was four times as high as in patients with low k-FLC index. Median time to second attack was 11 months in patients with high k-FLC index, while 36 months in those with low k-FLC index.
Conclusions: High k-FLC index predicts early MS disease activity.