In the UK ocrelizumab, an anti-CD20, is licensed for the treatment of Primary Progressive MS (PPMS) and Relapsing Remitting MS (RRMS). Rituximab, although not licensed for use in MS in the UK is also an anti-CD20 therapy with immunosuppressive properties. The two are matched in their efficacy in terms of reduction in disease progression (see Figure below) and serum neurofilament (sNfL) in PPMS.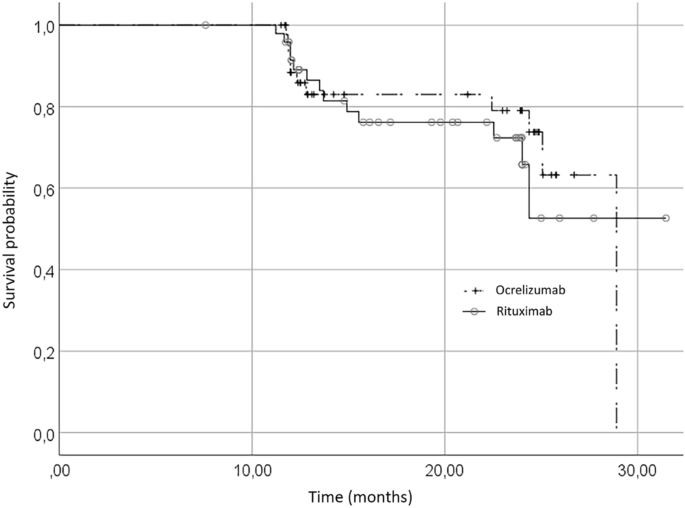 Treatment options for PPMS is scarce with ocrelizumab being the main option in most countries, with efficacy data outside of clinical trials being scarce. In such instances, it is useful to look at independent real-world data.
Real world data (RWD) in medicine is data derived from a number of sources that are associated with outcomes in a heterogeneous patient population in real-world settings, including but not limited to electronic health records, health insurance claims and patient surveys. While no universal definition of real world data exists, researchers typically understand RWD as distinct from data sourced from randomized clinical trials. [source: Wikipedia]
In the latest RWD from France, their two-year follow up data shows that roughly more than a third of individuals with PPMS on anti-CD20s experienced disease progression as measured by EDSS. This figure when faced with the risk calculations of anti-CD20s seems somewhat small, but given that those starting were at an EDSS score of 6 (using a walking stick) with numerous MRI head lesions and long disease duration and should be factored into this. However, this figure is useful to know when considering therapeutic options in PPMS and setting the bar for others in the future.
Abstract
J Neurol. 2022 Apr 17. doi: 10.1007/s00415-022-11124-9. Online ahead of print.
Anti-CD20 immunotherapy in progressive multiple sclerosis: 2-year real-world follow-up of 108 patients
Maximilian Einsiedler , Laurent Kremer , Marie Fleury , Nicolas Collongues , Jérôme De Sèze , Kévin Bigaut 
Background: Anti-CD20 monoclonal antibodies are recently introduced treatments in progressive MS and real-world data are lacking.
Objective: The aim of this study is to describe a cohort of progressive MS patients treated with ocrelizumab or rituximab in a real-world setting.
Methods: This monocentric prospective cohort study at the University Hospital of Strasbourg included patients with primary progressive or secondary progressive MS that started treatment with anti-CD20 antibodies before June 2019. Every six months, patients were assessed using the following standardized clinical evaluations: Expanded Disability Status Scale (EDSS), Timed 25-Foot Walk (T25FW), 9-Hole Peg Test (9-HPT) and Symbol Digit Modalities Test (SDMT). The primary analysis considered EDSS progression (of at least 1.0 if EDSS ≤ 5.5 and at least 0.5 if EDSS ≥ 6.0).
Results: We included 108 patients, with a median age upon inclusion of 53 years [48.0-58.0]. 72% were classified as primary progressive forms. Median baseline EDSS was 6.0 [4.0-6.5]. EDSS was significantly correlated with T25FW, SDMT and 9-HPT. Following 2 years of treatment, 38.9% of patients presented EDSS progression compared to baseline.
Conclusion: Our large cohort confirms tolerance of these treatments in a real-world setting. Standardized clinical assessments could improve detection of deteriorating patients. Further studies are needed to establish predictive factors.