Bar-Or A, Banwell B, Berger JR, Lieberman PM. Guilty by association: Epstein-Barr virus in multiple sclerosis. Nat Med. 2022 . doi: 10.1038/s41591-022-01823-1.
ProfG has been banging on about EBV and MS as long as I have known him, but when two papers come together (one showing that you get infected before you get MS and the other one suggesting a mechanism of how T cells are activated in (i) below) and peoples ears prick up.
Whilst there is no discussion of the work being questioned as to its importance, they provide alternative explanations
So here is a pretty picture of the different ways that EBV may be involved in development of MS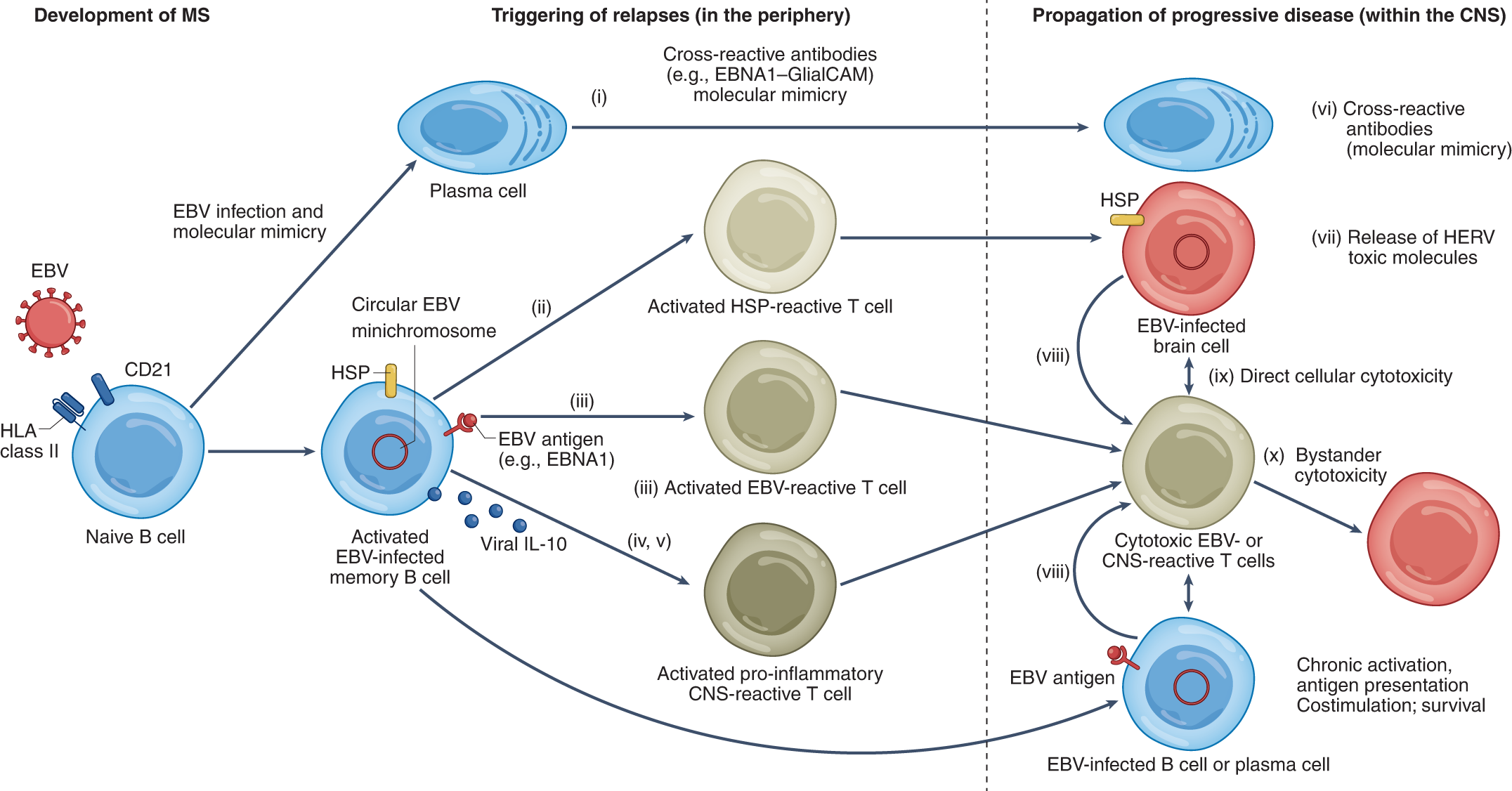 (i & vii)) Cross reactive antibodies and mimicry. So immune response to one element that cross reacts with a nervously-expressed element occurs. This have been suggested before in associated with myelin basic protein and other poteins long before GlialCam was suggested. This puts the problem at the level of the antibody…However, the original description of molecular mimicry was firmly at the T cell level. The anti-EBV T cell response makes an anti-CNS T cell-mediated immune response.
(ii) EBV infection leads to HSP heat shock protein on B cells this activated heat shock specific T cells and target HSP expressing brain cells possibly after EBV infection
(iii) EBV reactive or CNS reactive (v, vi) T cells are generated and and enter the CNS and produce toxic molecules that damage the CNS (x). Therefore you may not need to a specific antigen to drive this and why would measles virus, cytomegalo virus etc. be associated with MS is a same way as EBV is?
(iv, v) EBV-reactive T cells may kill (viii)EBV infected cells in CNS, but why would it be so hard to find EBV in brains and MS lesions.
(vi) EBV infected B cells enter CNS and are targets for T cells or activate T cells
Maybe another one, EBV infected B cells enter the CNS and cause bystander damage (x) without bothering T cells (Yep heresy) or the other reasons we have suggested previously.
So how we disprove these ideas and if we can then it is not a major mechanism. With regard to finding antibodies in MS we have to wait for the Lanz et al idea to be repeated as we have been here before with Kir 4.1 (potassium channel specific antibodies). Essentially, no-one could repeat the work. Finding EBV in the brain has been another one where people have struggled to find it in the brain.